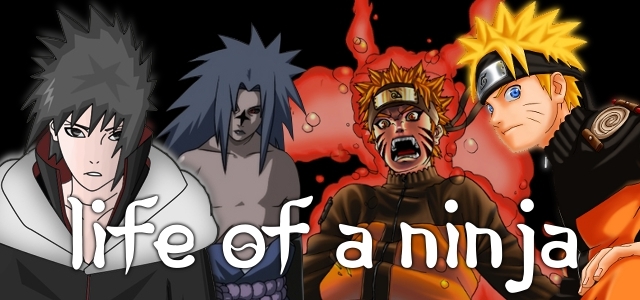 A Naruto RPG where you can RP as a canon character or make a custom one! Battle one another, find love, make your own organization, fight your way to the top! Anything is possible! It's your life.

Welcome to Life of a Ninja!
Play as your favorite character, or create a custom one.
Don't like the storyline? That's okay. In the Off-RPG section your can create your own storyline.
If you don't feel like RPing long paragraphs, you can RP in the Role-play academy at any length you want.
Be sure to read the rules before creating your character, then wait to be approved before you start to role-play.
Have fun!
| | |
| --- | --- |
| Hyuuga Yaizu's jutsus (revamped) | |

Author
Message
smartfiredragon
Jounin






Subject: Hyuuga Yaizu's jutsus (revamped) Sun Sep 26, 2010 11:21 am

---

I hope someone can help me rank the jutsus i dont got ranked here. they are his non personal jutsus wich mean theese are jutsus anyone an use and most of them is already ranked on official naruto site.

Basic jutsus (the jutsus all kids get to learn at the academy)
* Henge no jutsu - Transformation technique

* Shunshin no jutsu - Body flicker technique

* Kawarimi no jutsu - Body replacement technique

* Bunshin no jutsu - Clone technique

* Nawanuke no jutsu - Rope escape technique

* Doton no jutsu - Earth release skill

* Kinobori no waza - Act of tree climbing

* Suimen hokou no waza - Act of water surface walking

No element Ninjutsus

Name: Chakra kyuuin - Chakra Absorption
Rank:
Jutsu Type: ninjustu
Elemental Affinity: -
clan -
Description: When he touches his palm on his opponents body, he can withdraw the physical and spiritual energy out of them. By reducing their chakra, it greatly increases his advantage over his opponent.

Name: Bunshin no jutsu – clone technique
Rank: E
Jutsu Type: Genjutsu
Elemental Affinity:
clan
Description: Bunshin no Jutsu is a Ninjutsu technique which every ninja learns at the Ninja Academy. The Bunshin technique creates a copy of the ninja without substance. The copy resembles the ninja in every way. This clone can function as a distraction or as means to confuse one's opponent. As soon the Bunshin gets attacked or comes into contact with an opponent, it will disperse.

Name: Kage bunshin no jutsu – Shadow clone technique
Rank: B
Jutsu Type: ninjutsu
Elemental Affinity: -
clan -
Description: The normal Bunshin technique creates a copy of the ninja that lacks any substance. The Kage Bunshin distributes the ninja's chakra evenly among the clones and creates a real copy with form and substance. The clone itself can also utilize any jutsu the original ninja knows. When the clone finally disperses, any new knowledge it has gained is passed back to the original ninja and any additional clones. This makes Kage Bunshin an excellent training method if the ninja has the chakra capacity and stamina to maintain the Kage Bunshins for an extended period of time. This allows the ninja to essentially reduce the time it takes to train and learn with each clone added. This is especially true when used with Tajuu Kage Bunshin.

Name: Bunsin bakuha – Shadow clone explosion
Rank: A
Jutsu Type: ninjutsu
Elemental Affinity: -
clan -
Description: Bunshin Bakuha is a Ninjutsu technique created to supplement the Kage Bunshi jutsu, rendering that jutsu even more dangerous and frightening in combat. Opponents must now fear the possibility that the Clones they are frightening might very well be Bombs themselves, this can often prove a sudden surprise, one that the unfortunate target of this technique might only realizes upon his death. Basically with a simple command yaizu can detonate his own Shadow clone (s) at any time to form a very large and destructive explosion.

Name: Shuriken/Kunai bunshin no jutsu – Shuriken clone technique
Rank: E
Jutsu Type: Genjutsu
Elemental Affinity: -
clan -
Description: Shuriken or Shuriken Bunshin no Jutsu is a Ninjutsu technique that uses Bunshin to create multiple illusionary clone copies from one thrown shuriken or Kunai. Each of the clone Shuriken or Kunai are illusions and cannot hit anything. Takes less chakra than the Shuriken/Kunai kage Bunshin no Jutsu

Name: Shuriken/Kunai kage bunshin no jutsu – shuriken shadow clone technique
Rank: A
Jutsu Type: ninjutsu
Elemental Affinity:
clan
Description: Shuriken or Shuriken Kage Bunshin no Jutsu is a Ninjutsu technique that uses Kage Bunshin to create multiple physical clone copies from one thrown shuriken or Kunai. Each of the clone Shuriken or Kunai are as real as the original one and just as deadly, though they will puff out of existence after hitting their target or other surfaces.

Name: Jigyakkou no Jutsu – Time regression technique
Rank:
Jutsu Type: ninjutsu
Elemental Affinity:
clan
Description: Jigyakkou no Jutsu is a Ninjutsu technique used by the ANBU to pull out forgotten memories. After forming the needed hand seals, the ANBU will put the target into a trance. After counting back to the day they wish to learn about, they will ask the target to remember incidents they have since forgotten. This allows the ANBU to gather Intel that would other be inaccessible.

Medicial jutsus

Name: Chikatsu Saisei no Jutsu - Healing Resuscitation Regeneration
Rank: A
Jutsu Type: ninjutsu
Elemental Affinity:
clan
Description: Chikatsu Saisei is an advanced medical Ninjutsu technique. The technique allows the medical ninja to use the hair of the one injured as a medium to reconstruct damaged body tissue. The extent of the damage will control how difficult and long the procedure is. The injured person will be placed in the center of a square marked with rites for the procedure. One medical ninja will sit at each corner to provide precise chakra control to help in the cell conversion process. Another medical ninja will sit at the lead to guide the process. If the ninja have a huge amount of chakra, kage bunshins can be used instead of other ninjas

Name: Saikan Chuushutsu no Jutsu - Fine Affliction Extraction
Rank: B
Jutsu Type: ninjutsu
Elemental Affinity:
clan
Description: Saikan Chuushutsu no Jutsu is a skill used by medical ninja to remove harmful poisons from a patient's body. The ninja will infuse their chakra into liquid, which they will insert into the patient. They will then use the liquid as a medium to draw out the poison from the cells. This mix can then be removed from the body. Depending on the deadliness of the poison, further treatment with an antidote or medicine may be required.

Name: Chakra no ito – Chakra threads
Rank:
Jutsu Type: ninjutsu
Elemental Affinity:
clan
Description: Chakra no Ito. The ninja will create threads of chakra which will start at their heart's chakra circulatory system and extend outwards. These threads can then be wound around their opponent's body and internal organs. This essentially will tie their two hearts together and make them become one. Once fully in sync, the ninja's chakra circulatory system can control their opponents system, so if the ninja dies, their opponent dies as well.
The threads themselves are not easily cut by normal means, only a special tag can cut the strings.

Name: Chakra no mesu – chakra scalpel
Rank:
Jutsu Type: ninjutsu
Elemental Affinity:
clan
Description: Chakra no Mesu is a special Ninjutsu technique used by medical ninjas. After forming the needed hand seals, the ninja will focus chakra to their hands. When their charged hands reach the body of their target, they can extend the chakra internally into the targets body to cut and neatly slice their muscles and blood vessels without harming the surface skin. This technique can be used in battle, but because of its hectic nature, the fine precision required for an instant kill is not feasible. Damage can still be done to the vital organs, but the technique should be used carefully in battle.

Name: shousen - Mystical Palm Technique
Rank: A
Jutsu Type: ninjutsu
Elemental Affinity:
clan
Description: Shousen Jutsu is a Ninjutsu technique utilized by medical ninja. This technique allows the ninja to heal wounds by focusing their own chakra to their hands. If the ninja is highly skilled, they are able to heal more critical injuries. Highly skilled medical-Nins such as yaizu can use their techniques to perform surgeries that otherwise would not be possible.

Name: Shikon – Dead soul
Rank:
Jutsu Type: ninjutsu
Elemental Affinity:
clan
Description: Shikon no Jutsu is a Ninjutsu technique that uses a dead body to create the illusion of another living person. The ninja can either animate a normal dead person, or alter the appearance of the dead person to resemble another. To do the second version, the ninja first changes the appearance of the dead body to resemble the person to be portrayed. Then using this jutsu they make the heart beat again, allowing them to control the actions of the dead body.


Fuuinjutsu

Name: Doku Houin - Poison Sealing Method
Rank: B
Jutsu Type: Fuuinjutsu
Elemental Affinity:
clan
Description: A very simple seal. You place the tag on the body preferably on the place where the toxic got into the body. For example if the patient got the poison in them through a needle stick in the shoulder that's where the zeal should be placed. This method works like this. It draws the poison to the tag it self and then it seals it in the tag

Name: Doku kaiin – poison unsealing method
Rank:
Jutsu Type: Fuuinjutsu
Elemental Affinity:
clan
Description: The opposite of the doku houin it releases the poison that's stored in it into the opponent the tag is placed on. Obiusly this can only be used once

Name: chakra Taisan Fuuin - Chakra Confusion Seal
Rank:
Jutsu Type: Fuuinjutsu
Elemental Affinity:
clan
Description: When this tag is attached on the opponent and activated it force chakra to that point. Which create a disruption in the chakra flow and makes it harder to focus and with time if its not removed it get almost impossible to use any kind of jutsu

Name: Shikoku Fuuin - Finger Engraving Seal
Rank:
Jutsu Type: Fuuinjutsu
Elemental Affinity:
clan
Description: Shikoku Fuuin is a Fuuinjutsu technique where, by forming the needed 4 hand seals, yaizu will cause sealing Chakra to emit from his index finger with which he can engrave a Kanji seal or any type of symbol or message. Particularly effective of flesh or hard materials, it can burn into metal or stone to engrave a mark or can burn into flesh where even when healed, the symbol will remain as a scar, making the marking near permanent (unless cut out completely)
yaizu can use this method to engrave near any seal he knows through this method, doing so on other material or even flesh rather than on paper or scrolls.

Name: Prohibition Barrier Seal
Rank:
Jutsu Type: Fuuinjutsu
Elemental Affinity:
clan
Description: This is a sealing Technique where, by placing the proper seal mark onto a Door, gate, Wall or surface, will create a barrier to keep any from getting through. This barrier will hug tight along the door, gate or what not and is impenetrable until the seal is removed or undone. The seal involves placing the 禁 (Prohibition) Kanji on a surface, then performing a series of 12 hand signs before infusing a small portion of Chakra into the Kanji. From that point on the Barrier will be activated. This Kanji can be placed on the surface in question by either placing a tag with the proper kanji inscribed on it onto the surface, or by carving it into said surface. Whatever means used, the hand signs are the same as it the requirement to place infuse it with Chakra. The Seal is broken once the Kanji is undone, either by removing the tag with it inscribed on, or by defacing the carved kanji if inscribed through that means, hence why this seal is usually either concealed or coupled with a second Jutsu meant to protect the Seal itself (the Barrier it creates does not protect it).

Taijutsu

Jyuuken - Gentle fist
Name: Hakke Hitofukiten [Eight Trigrams: Whiff of Heaven]
Rank: C
Range: Close-Mid Range (0-10m)
Jutsu Type: Taijutsu
Elemental Affinity: -
Clan: Hyūga
Description: This is a rather simple, yet effective, Hyūga style of technique that takes advantage of the arrangement of the Tenkatsu within the hands. Each fingertip has within it a Tenkatsu. Thusly, it is possible to mold chakra to the very tips of the fingers, and for the Hyūga clan it is possible to release this chakra out from the body with extreme effectiveness. For this technique, the user will collect chakra in the tips of any number of their fingers, similar to how they collect chakra for releasing it through the middle and pointer fingers for several Tenketsu targeting attacks. However, the chakra used in this technique becomes intense and visible in the form of extremely small orbed-shaped manifestations that are even smaller then the tips of the fingers are wide. Utilizing small bursts of chakra, these chakra bullets jettison forward in straight paths with great speed and accuracy. These orbs can be used to shut off Tenketsu point within the opponent form a distance, though at most the user may create 10 at a time. While this is not enough to cause massive discord within the opponent's chakra network with a single use, utilizing these 10 or less orbs at once wisely can disrupt the chakra system enough to cause the opponent issue in forming attacks, such as shutting down points within the chest in order to inhibit an impending attack that would be released from the user's breath. Thusly, to a skilled user that understands how the opponent will channel their chakra, this is a effective technique.

Name: Hakke Rokujuuyonshou - Eight Divination Signs, 64 Strikes
Rank:
Jutsu Type: Taijutsu
Elemental Affinity:
clan Hyuuga
Description: Hakke Rokujuuyonshou is a Taijutsu technique unique to the Hyuuga bloodline. Hakke Rokujuuyonshou is a special technique passed down through the main family line. When an opponent is within the clan members divination field of attack, they can quickly begin their assault. The technique allows the clan member to use the Byakugan eye to see the inner chakra coils system. Using the Jyuuken style, they can force their chakra through their hands into the tenketsu of the opponent's body through 126 strikes. First the clan member will strike 2 times, then 4, 8, 16, 32 and finally 64. This damage forcibly closes 64 tenketsu, stopping the chakra flow of the opponent. This then limits their opponents ability to use jutsu.

Name: Hakke Hyakunijuuhachishou - Eight Divination Signs, 128 Strikes
Rank:
Jutsu Type: Taijutsu
Elemental Affinity:
clan Hyuuga
Description: Hakke Hyakunijuuhachishou is a Taijutsu technique unique to the Hyuuga bloodline. Hakke Hyakunijuuhachishou is a variation of Hakke Rokujuuyonshou, a technique passed down through the main family line. When an opponent is within the clan members divination field of attack, they can quickly begin their assault. The technique allows the clan member to use the Byakugan eye to make nearly double the normal 126 strikes, striking 254 times against their individual foe or opponents. First the clan member will strike 2 times, then 4, 8, 16, 32, 64 and finally 128 times.

Name: Hakke Sanbyaku Rokujuichi Shiki - Eight Trigrams 361 Palms of the Hand
Rank:
Jutsu Type: Taijutsu
Elemental Affinity:
clan Hyuuga
Description: Hakke Sanbyaku Rokujuichi Shiki is a Taijutsu technique unique to the Hyuuga bloodline and is the a variation of Hakke Rokujuuyonshou . This Jutsu is considered one of most devastating technique within the Hyuuga clan and as its lesser variants, once inside the Hyuuga's Trigrams and the technique commenced there is no escaping it. When using this technique, the speed of the user is comparable to that of the hidden lotus and Reverse Lotus, the Hyuuga literally coming to move too fast for normal eyes to see. It closes the Tenketsus faster than they could be re reopened even by those capable of doing so, with the final blow either rendering the target unconscious instantaneously or killing them depending on which outcome the Hyuuga chooses.

This Jutsu allows the user to strike all 361 chakra points of the opponent, paralyzing them with each blow but the final blow is the one that makes this technique a lethal one or not. If the Hyuuga chooses not to deliver that last blow then the target falls unconscious, if the Hyuuga does choose to deliver that final blow then the target dies instantly upon the final hit.

Alternatively, this technique, like it's lesser variants, the 64 or 128 palms techniques, can be used to hit a great number of targets with blinding speed, or used to counter an adversary that would otherwise prove too fast, No Hyuuga skilled in this technique has ever be "outpaced" or beaten by speed. However to be noted is that in the entire history of the hyuugas there are only a few that has been able to master this technique.

Name: Hakkeshou Kaiten - Eight Divination Palms of the Hand, Heavenly Spin
Rank:
Jutsu Type: Taijutsu
Elemental Affinity:
clan Hyuuga
Description: Description: Hakkeshou Kaiten is a Taijutsu technique unique to the Hyuuga bloodline using the Jyuuken. Kaiten takes advantage of several of the unique abilities of the Byakugan eye. Byakugan gives the clan member an almost complete 360 degree view of their surroundings. This allows the member to see all angles of attack. The Hyuuga skilled in Jyuuken are able to emit a solid amount of chakra from nearly any tenketsu to block an attack. The Kaiten takes this to an all new level it uses a solid amount of chakra expelled from the whole body (as opposed to imprecise bursts from only specific parts of the body, which is the most even your typical Jounin can manage) to stop any attack in its tracks, this along with the motion of spinning like a top the Kaiten is able to push an attack back with equal force, earning the Kaiten the reputation of being an absolute defense and also making it possible to use it as an offensive move.

Name Hakkesho Dai Kaiten - Eight Divination Palms of the Hand, Great Heavenly Spin
Rank:
Jutsu Type: Taijutsu
Elemental Affinity:
clan Hyuuga
Description: An expansion on the Hakkesho Kaiten. This version takes the Kaiten to an all new level, utilizing a greater amount of Chakra to produce a far larger and far more powerful version of the heavenly spin. This version is well suited for offensive applications as it spreads out to cover a larger region all around the Hyuuga. It expands out to such a diameter so as to easily capture an opponent in its spin, bombarding them in the current of chakra, It can easily knock out an opponent caught in it. Like the normal Kaiten, the flow of Chakra emitted from the Hyuuga will stop any attack, the spin then pushes that attack or momentum away with from the Hyuuga, but unlike the normal Kaiten which seems to apply equal force as the attack, this version counters with far greater force then was applied.

This vortex can expands out to approximately 12 to 15 feet in every direction of the Hyuuga to a total of 24 to 30 feet in diameter. Any caught in it will find themselves violently assaulted by the massive chakra flow only to finally be violently thrown away with massive concussive force.

NameHakke Kusho (Eight Trigrams Empty Palm)
Rank:
Jutsu Type: Taijutsu
Elemental Affinity:
clan Hyuuga
Description: This jutsu takes elements from the Kaiten and uses them for purely offensive reasons. To perform it, the user thrusts their palm at an opponent while expelling a large burst of chakra, violently pushing the opponent away as. This jutsu strikes with concussive force.

Name: Hakke Shiten Kusho - Eight Trigrams Four Heavens Empty Palm.
Rank: B
Jutsu Type: Taijutsu
Elemental Affinity:
clan Hyuuga
Description: This Technique is an advanced form of the Hakke Kusho. It releases a far larger and more potent amount of Chakra, affecting a larger wider area making it harder to dodge, it also releases far more energy, making it far more powerful, To be hit by this version of the Kusho means one is going to be hurt... very hurt. Able to smash through solid rock with ease. It strikes with massive concussive force. A direct unprotected hit would most likely prove devastating, but rarely fatal unless slammed not a surface, such as a wall. To perform it, the user must take a quick moment to focus and then thrusts both their palms at an opponent while expelling a massive burst of chakra. This mass of chakra is roughly 7 feet in diameter, with a wake reaching out to roughly 10 feet wide that emits kinetic force, meaning it can even the wake of the blast can prove damaging and harmful. so simply dodging the blast by little might not prove enough, though obviously the wake is nowhere near as devastating as a direct hit.


Name: Hakke Chakra Tate [Eight Trigrams: Chakra Shield]
Rank: B
Jutsu Type: Taijutsu
Elemental Affinity:
clan Hyuuga
Description: By releasing chakra at the exact point of physical impact, the user is able to nullify physical damage to the area. This technique utilizes the Hyuugas ability to release chakra form any part of their body. However, even more then that, it requires complete precision to the target area as a means of conserving chakra, for releasing chakra through the body in order to defend a localized area would be far too high of a chakra coast for the user to efficiently perform this technique. This technique not only requires the release of chakra, but it also requires the user to understand how much chakra is being used by the opponent in the attack they are countering, since an equal or greater amount of chakra must be released by the user in order to negate the physical damage of a attack by precise chakra repulsion. This technique can be used to not only counter physical attacks, but also negate the Hyuugas own style of Gentle fist.

smartfiredragon
Jounin






Subject: Re: Hyuuga Yaizu's jutsus (revamped) Sun Sep 26, 2010 11:22 am

---

Yaizus jutsus only he can use them so far and they are ©

Dojutsu techniques ( pure eye techniques)

his passive jutsus kind of
Doujutsu, Issekigan – Discerning Eye
Rank: S
Type: Doujutsu
Clan: Hyuuga/Byakugan
Elemental Affinity: -

An ability developed by Yaizu Hyuuga, taking advantage of his advanced byakugan, he has developed a method of differentiating between different Chakras even if comingled with countless other chakras thus allowing him to choose to focus on any specific Chakra or chakras with Perfect accuracy. Able to pinpoint specific properties of each individual's Chakra, (it's particular flow, natural elemental affinity, potency and even their frequency of sorts) each individual Chakra takes on a hue and tone of its own thus differentiating it from others. The ability to see these subtle differences allows Yaizu to "cut through" any other chakra to focus on one he wishes to see, thus allowing him to even penetrate through a mass of Chakra to pinpoint and focus on a Chakra source beyond it, meaning one could not hide one's Chakra from him behind another Chakra, or hide it among others. As a secondary benefit this allows him to easily recognize a person's chakra if he ever sees it a second time, even if this chakra is only residual Chakra left behind in the air.

Doujutsu, Taibu Sekishokyuu (Greater Barrier Sphere)
Rank: C rank
Type: Doujutsu
Elemental Affinity: -
Clan: Hyuuga Yaizu Byakugan
Description:
Part of what makes a Hyuuga able to detect everything around them is the release of chakra to saturate their surroundings, it's part of how the Byakugan works called the "Sekishokyuu". This chakra though subtle and barely perceptible even to the Hyuuga will aid them in detecting anything and everything for some distance around them. By slightly intensifying that chakra emission, the Hyuuga is able to greatly increase their awareness of their surroundings, the Chakra they emit becomes more easily perceptible to them, more easily observed. Anything passing through this Chakra or disrupting it, such as an individual, a different chakra, or projectile will cause a rather clear distortion within that Chakra that the Hyuuga will be able to perceive clearly, therefore allowing them to detect even that which might be invisible to them otherwise. The disturbed chakra paints a rather clear picture of what is coming, the Hyuuga could make out the full silhouette of the individual or item coming towards them, or sense the intensity and strength of an intruding chakra. As a side effect the Hyuuga's reflexes and response time are also greatly increased by this technique. The Chakra used in this is minimal as it is done in small periodic bursts to keep the area saturated.

Chakra Control
The Hyuuga Clan are renowned for their Chakra Control, yet another gift of their Bloodline and perticular arts. Their ability to release Chakra from all parts of their body, even simultaneously is renowned across the Shinobi world, as is their ability to control their very Chakra flow itself. For his part, even among his fellow Hyuuga, Yaizu is regarded as one of the clan's most gifted and skillful. Regarded as a prodigy in this field since his youth, his control and awareness are uncerpassed despite his relatively young age. This control encompasses everything from controlling how one's chakra flows to how intensely it does, it involves the ability to manipulate one's Tenketsus to either dilate them at will or closing them off completely, even forcing closed Tenketsus opened once more. By manipulating one's tenketsus, one can control chakra flow through one's system completely. Now that he has attained "Keihatsu", his control is even greater, opening avenues Yaizu has yet to explore

Shin Iyoku - True will
Rank: N/A Jounin
Type: Chakra Control
Elemental Affinity: -
Clan: Hyuuga Yaizu
Description:
The Hyuuga clan are blessed by a number of abilities and gifts as part of their bloodline, the Byakugan of course is the most visible gift, but they are just as renowned for their remarkable Chakra control. This technique/ability is an expression of said Chakra control, specifically this is the Hyuuga art of controlling one's Chakra flow, it encompasses everything from controlling how one's chakra flows to how intensely it does, it involves the ability to manipulate one's Tenketsus to either dilate them at will or closing them off completely, even forcing closed Tenketsus opened once more. By manipulating one's tenketsus, one can control chakra flow through one's system completely. Simply said, this is the art of controlling how one's chakra flows through control of one's Tenketsus. In practical terms, this ability has several benefits, the ability to control one's Chakra flow, including the ability to dilate one's tenketsus means a Hyuuga can manipulate their Chakra flow to increase said flow when desired. In this case, the Hyuuga, by concentrating for a moment rushes the flow of chakra through his system, forcing his Tenketsus to dilate open for a period of time, increasing their Chakra flow, granting them greater speed, strength, and endurance, heightened reflexes and reaction time, as well as increases both the defensive and offensive capabilities of Jyuuken techniques by increasing the amount of Chakra the Hyuuga can use at once. The benefits are obvious. (This technique can also be focused, as in used regionally, increasing flow to one body part only but this isn't as effective, unless used for specific purposes - For example increased flow to the ears to improve sound perception, etc.)
The Drawback of this application is also obvious, increased Chakra flow also means increased rate of use, meaning the Hyuuga will run out of Chakra more quickly then he usually would. It also more quickly exhausts the body as the body isn't used to such a strain, though this effect lessens the higher the Rank. If the Hyuuga is not careful he'll run out of chakra and exhaust himself before a match is won.
A second application of this skill is the ability to force his Chakra flow into a specific fixed and ordered pattern for a time, this has the benefit of possibly masking or disguising one's Chakra signature to those that might be able to sense it, as well as using said rigid control to keep his Chakra flow from being altered such as by a genjutsu. This can render one immune to Genjutsu as long as said rigid control is being applied as the Hyuuga's Chakra is being forced into a particular pattern of flow despite any outside attempts to alter it. he has to actively be doing this to resist said Genjutsu, if not then said resistance will not apply. This same principle of forceful Control allows the Hyuuga to force his Chakra flow back to normal if he does fall into a Genjutsu thus allowing him to break free. Needless to say however, he needs to know he is in a Genjutsu in the first place, which fortunately, with Byakugan, if often far more easily accomplished than for others.

A more recent development on this technique by Yaizu is the ability to reverse his chakra flow. Normally Chakra flows out from one's core out throughout the Chakra network. In this case Yaizu can reverse the flow for periods drawing his chakra in towards his core instead. This has 2 separate benefits, Doing so means Yaizu is not emitting chakra and thus can make his chakra signature disappear completely (thought it would remain visible to Byakugan) allowing him to go undetected by even the most sensitive chakra sensor. The second benefit is that he can resist any attempts to force his chakra out of her body, even pulling exited chakra back into his body to some degree.
The drawback of this effect is obvious, while chakra is being pulled in, it cannot be released, meaning Yaizu cannot perform any jutsu at the same time as this. Also eventually he will run out of chakra in his body until he allows it to flow back out, meaning that she could fatigue his body greatly until her chakra re-saturates his body (which can happen in seconds) Yaizu can reverse his chakra flow near reflexively, meaning it can be done or put back to normal swiftly and with ease.

Naiteki Jukutatsu - Inner Mastery
Rank: A (Keihatsu)
Jutsu Type: Chakra Control
Elemental Affinity:
Clan: Hyuuga and "Keihatsu"
Description:
"Keihatsu" has opened many new doors to Yaizu in regards to chakra control, allowing his practices which he had not considered or attempted before. This techniques is such a practice. Taking advantage of Yaizu's medical training and great familiarity with human anatomy, and through focus or Meditation, Yaizu is able manipulate and control chakra flow to any of his internal organs. This kind of control can be used for many effects. Increasing Chakra flow to one's lungs can for example grant a significant increase in lung capacity or efficiency, allowing him for example to hold his breath for incredible lengths of time or to breath effectively in environments where the air would normally be too thin. Similarly affecting the heart, glands or other organs can allow him to elevate his levels of adrenaline or dramatically increase his metabolism, thus speeding up his ability to process and expulse various dangerous materials such as toxins or chemicals, (Note that this would not allow him to resist poisons, but reduce their effects and get through their effect faster.) or even speeding up his healing. (Note this last example would require Yaizu to be meditating rather than simply focusing for a moment. Also due to this it could not be used in combat, nor will it allow him to heal wounds instantly, allowing him to speed his healing by up to 4 times.) Also this also allows him to saturate any part of his body with his own chakra so as to cancel out any and all foreign chakra having penetrated his body whether elemental or otherwise, this requires him to put as much chakra as he is trying to cancel out of course.

Shouki - Miasma
Rank B
Range: N/A
Jutsu Type: Chakra Control
Elemental Affinity: N/A
Clan: Hyuuga – keihatsu
Description:
An technique developed by Hyuuga Yaizu and made possible due to his extremely advanced Chakra Control and her Keihatsu state. With this Yaizu can alter the frequency of his chakra in a manner which will in a sense make it "Noxious" to other Chakras and chakra networks. In practical terms this means that in this state Yaizu's chakra will act almost as a poison. Beyond the normal result of two Chakras meeting (both canceling each other out) his chakra will have the added effect of transferring over its altered frequency to his target's own chakra, causing it to go haywire temporarily within them and as a result cause their chakra networks to oscillate in a harmful manner in response to this frequency. This causes direct damage throughout their chakra networks, and through this causes damage to all their internal organs directly intertwined to said network. This oscillation will last for some time after a strike, eroding away at both the chakra network and interconnected organs for as long as it lasts. The effects are twofold, the erosion and damage to the internal organs will appear very much similar to the effects of a poison, and the damage and oscillation of the chakra network making the molding of Chakra extremely difficult if not impossible until they recover.

2 strike or more (or 3 seconds of continuous contact, through Senjugusuri for example) will intensify the damage to the point of require emidiate medical attention lest it prove fatal. Also the victim will be unable to mold Chakra for any kind of jutsu until treated and recovered.

4 strikes (or 6 seconds of continuous contact) will prove fatal within seconds.

Another application or benefit of this technique is that, this poison like affect will affect any in whom Yaizu's chakra penetrates, including any attempting to absorb his Chakra in this state into themselves, having the same effect and at the same speeds as describe above, making it attempting to absorb Yaizu's chakra when in this state as lethal.

smartfiredragon
Jounin






Subject: Re: Hyuuga Yaizu's jutsus (revamped) Sun Sep 26, 2010 11:26 am

---

Yaizus jutsus only he can use them so far and they are ©

Ninjutsus

Hyuuga Style Medical Techniqeus

Name:

Tenketsu Shosen Jutsu [Chakra Point Mystical Palm Technique]

Rank:

A+

Jutsu Type:

ninjutsu

Elemental Affinity: clan

Hyuuga

Description:

This is an adaptation of the Mystical Palms Technique that can only be performed by someone that can see and target the chakra circulatory system, namely a member of the Hyuuga clan. This technique creates the same glow of bluish green healing chakra as the normal version of the technique, though only at the tips of the users fingers. Once this chakra in concentrated to the point where it become visible in its green glow, the user will target a chakra point in the patients body as in a normal Hyuuga technique, directly connected the Mystical Palm technique to the patients chakra network. This technique allows the user to send the healing effects of the Mystical Palms technique throughout the entire body, using the network of the patient as a medium for transmitting the healing natured chakra instead of simple physical contact. Not only can this technique send healing chakra throughout the patients body by making contact with a single point, or multiple in order to send the chakra at a faster pace then a single point could allow, but by careful positioning of the points of entry, the use can channel this chakra through a localized area of the network and heal just that part of the body. This technique allows yaizu to heal internal injuries without the need of surgery, and enhances the user of Mystical Palms to the point where it can heal even better then the original technique.

Name:

Hakke Mukankaku [Eight Trigrams: Numbing]

Rank:

B

Jutsu Type:

ninjutsu

Elemental Affinity: clan

Hyuuga

Description:

This technique uses the same style chakra delivering as the Gentle Fist does into the targets body. However, instead of using this chakra to target the chakra circulatory system and deactivate chakra points, the user lessens the extent of this chakra to only target the interior of the target without actually doing damage to the chakra network. Instead, this technique uses chakra to numb the area of the body it is injected into acting as a localized painkiller that can be used to futher aid the user in performing surgeries.

Name:

Hakke Amatsu Nemuri [Eight Trigrams: Heavenly Slumber]

Rank:

B

Jutsu Type:

ninjutsu

Elemental Affinity: clan

Hyuuga

Description:

This is actually a very simple technique to perform as the user only has to target a single point in the center of the targets forehead with a gentle amount of chakra. This is not a strike in the sense that even the touch that is made with the index and middle finger of a single hand is soft. However, if a direct hit is landed the target will instantly fall into a deep sleep. This technique is not so much as a battle technique as it can be used for medical purposes, as a form of anesthesia. Patients put to sleep with this technique will remain in their deep anesthesia like slumber for at least an hour, unless this technique is performed a second time in order to reactivate the chakra point and awake the patient. Yaizu developed this technique to make it easier to perform advanced surgery on patients. however this technique can be used for other things aswell.

Name:

Hakke Jinzou Tenketsu Soushi [Eight Trigrams: Artificial Chakra Point Creation]

Rank:

A+

Jutsu Type:

ninjutsu

Elemental Affinity: clan

Hyuuga

Description:

This is a medical technique that utilizes the Hyuuga style of chakra point targeting alongside the use of the Byakugan. By concentrating chakra at the tip of a single finger, the user is able to create a small cell of chakra that is only visible through the user of the Byakugan. This cell, which appears similar to an natural Tenketsu [chakra point], is essentially an artificially created chakra point that works the same as a normal point. This cell, once created, can then be directing within an object, either being attached to an existing chakra network, or placed into an object without a network in order to begin to create an artificial chakra network. Yaizu developed this technique as a means of creating an artificial chakra network within a puppet limb that could then be connected to the existing chakra network of the target as a means of creating a puppet limb to effective that there is barley a difference between working the fake limb and a normal limb. This technique can also be used in order to place on of these cells within a true Tenketsu, allowing Yaizu to then move that Tenketsu along the targets chakra circulatory system. Normally something like this would be a dangerous procedure that could potentially disrupt the natural way chakra flows in the body. However, if used in a careful surgery, normal flow of chakra can be manipulated to create effects that many have labeled as impossible.

Name:

Hakke Gokan Sakusou [Eight Trigrams: Five Senses Confusion Disorder]

Rank:

C

Jutsu Type:

ninjutsu

Elemental Affinity: clan

Hyuuga

Description:

this is an advanced level medical technique that utilizes the Hyuuga ability to deactivate Tenketsu [Chakra Points] within the targets body. While this technique has various applications for medical purposes, ranging between acting as a painkiller, to a general disabling of a sense in order to make it easier to perform certain surgeries, such as disabling the eyes in order to operate upon them, this technique can also be applied to battle situations. Using this technique, Yaizu, will target particular chakra points in the targets head and neck in order to literally disable a particular sense in the targets body. this can also be used in combat its little harder though since its a small area to hit and the opponent usually moves around fast

Name:

Hakke Tenketsu Hagemi [Eight Trigrams: Chakra Point Stimulus]

Rank:

B

Jutsu Type:

ninjutsu

Elemental Affinity: clan

Hyuuga

Description:

this techinique is not an attack, but is rather a move that is more beneficial to the person it is performed on. By using the Hyuuga ability to target the Tenketsu [Chakra Points] within the body, though changing the nature of the chakra used in the pinpoint strike, the chakra point that is hit is actually enhanced for a short time rather then being deactivated. This technique, depending on the number of points that are hit, can increase the flow of chakra in the targets body, potentially doubling the rate that chakra is sent from one area of the body to another. While this technique does not create any more chakra to work with, it allows the target to better perform for a period of time as they will be under less stress in molding their chakra.

Name:

Senjigusuri

Rank:

B

Jutsu Type: Elemental Affinity: clan

hyuuga

Description:

This is a simple Jutsu, very much based on Jyuuken, but not dependent on Jyuuken any further than the needed skill set. With this Technique, Yaizu will infuse his own Chakra into an opponent through the slightest of contact, whether directly with them, or through intermediates (such as through a weapon like his spear). This Chakra infusion is very subtle, causing no inner damage to the victim whatsoever, Rather it acts to disrupt their Chakra flow, keeping them from molding it or benefitting from it as it becomes too chaotic to properly use. While contact is maintained (this is important, this effect is only active while contact is made), the opponent will feel themselves suddenly somewhat dazed, they will feel dissy, suddenly weakened, and generally "Off". They will find themselves unable to use Ninjutsu or Mold Chakra. The moment contact is cut however, they will immediately return to normal. Usually this is used with blocks or simple touch, to interfere with his opponent, usually catching them by surprise and thus creating an opening for himself.

Once more, this only interferes with an opponent's chakra flow while contact is made, it causes them no other harm or damage and the effect will not last once contact is broken or if yaizu cannot flow his Chakra into his opponent for what ever reason (Focusing his Chakra for an other jutsu, being Hit and forced to lose his focus, etc...)

(Can be considered similar to the effect that Pein's Chakra receptors have when they come in contact with a victim)

Hyuuga Style forbidden Medical Technique

Name:

molekular destruction

Rank:

S+

Jutsu Type:

Kinjutsu

Elemental Affinity: clan

hyuuga

Description:

This is an adaptation of the Mystical Palms Technique that can only be performed by someone that can see and target the chakra circulatory system, namely a member of the Hyuuga clan.However this was created by accident by Yaizu when he developed Tenketsu Shosen Jutsu [Chakra Point Mystical Palm Technique] This technique insted of heal it destroys the cells in the targets body. Instead of the greenish color the tenketsu shosen have this become red. Once this chakra in concentrated to the point where it become visible in its red glow, the user will target a chakra point in the patients body as in a normal Hyuuga technique, directly connected the Mystical Palm technique to the patients chakra network. This allows the user to send the destructiv effects throughout the entire body, using the chakra network of the patient as a medium for transmitting it instead of simple physical contact. Not only can this technique send destructiv chakra throughout the patients body by making contact with a single point, or multiple in order to send the chakra at a faster pace then a single point could allow, but by careful positioning of the points of entry, the use can channel this chakra through a localized area of the network and destroy just that part of the body. at the slowest rate of destruction you can survive severly wounded if u get help within an hour after being hit by this technique. at it's fastest rate you will be dead in about 1-2 minuts

Fuuinjutsu

Name:

Entrapment seal

https://redcdn.net/ihimizer/img99/9485/fmarune2yz9.jpgRank:

A

Jutsu Type:

Fuuinjutsu

Elemental Affinity: clan Description:

This is a special Sealing technique Yaizu developed. It involves painting/sketching/carving or etching out a particular sealing diagram upon a floor. Ink, chalk, or any other way of creating this design pattern will do. Upon completion of the Design, and forming a series of hand seals, The trap is set. The seal itself remains mundane until a chakra source ( IE a person) walks onto it. From that point the seal will glow in a silvery blue light to indicate it has been activated as the victims own Chakra activates and sustains it. Until said Chakra source steps onto it, the design remains completely mundane, as if any other writing or drawing, leaving no sign or its actual nature, nor giving off anything that might allow to detect it for what it is.

The seal's effect is simple, any one walking onto it (and into it) will activate the seal, trapping themselves within the second outer ring. They will not be able to step out past them, an invisible barrier keeping them trapped within. Any attempts to mold Chakra for jutsu will result in said Chakra being absorbed into the seal thus fortifying it further. From within there is no way to undo the seal short of dying, as once the victim's Chakra flow stops completely, so does the fueling of the seal. The only way to step in and out of the seal without worry requires that one knows a secret hand seal known only to the caster of this jutsu. Beside this however no person, Chakra or solid matter can escape the seal.

The seal however can easily be undone from without, The person within cannot pass the secondary outer ring to reach the outermost one, but someone without will obviously have no such problem. By scratching out even a small portion of the out ring, enough to cut its continuity, the entire seal will be ruined. The Seal's effect will stop, freeing any one trapped within, though of course this can easily be repaired by repairing the cut in the design. (No other part of the design can be damaged once the seal is activated and powered by Chakra) Obviously the sight of the design on the floor can dissuade cautious Nin from stepping onto it, the same is true from those Shinobi that are familiar with sealing jutsus, so, if this is meant as a trap, it will usually be hidden or obscured, such as under a carpet, a thin layer of dust or soil or any such method, these will not impede the seal in anyway.

This seal can be made as small as 4 feet wide to hold a single person, or as large as thirty feet wide, to entrap an entire room. It's power however is not affected by its size, as either way, it's power will come from those trapped within. Also, the pattern is rather elaborate, usually taking a minimum of half an hour to complete, thus making this jutsu of little use in combat, rather it is meant as a trap to protect an area or a way of containing a Shinobi or other for questioning or such.

Name:

24 part cage seal

Rank: Jutsu Type:

Fuuinjutsu

Elemental Affinity: clan Description:

Yaizus latest seal and probally his most dangerous. It can seal any of the bijuus in their free form and it can also seal demons. and with a few modifications it can also be used to seal a demon/beast inside a human giving it acsess to all the power the creature without any posibility that the beast can take over except if they use their full form and release them volentearly. However this is still on experimental stage.

Name:

Suppression Seal

Rank:

E+

Jutsu Type:

Fuuinjutsu

Elemental Affinity: clan Description:

Description: This is a Fuuinjutsu where, by placing the proper seal onto a person, one can reduce their Chakra flow to just enough to live and operate normally. They will lose the ability to use any ninjutsu or genjutsu, as well as any Chakra using Taijutsu. Basically they are reduced to the same abilities as a normal person. Their Chakra flow will simply not focus or increase for them to use, all Chakra they attempt to use or focus will be absorbed into the seal thus wasting it for the person affected. This seal requires the 鎮 (Suppress) It is usually applied by placing a Chakra infused tag (creating the tag involved performing a set of 9 hand signs before infusing it with Chakra) with the above Kanji inscribed on it onto the person's body (anywhere will do) or by marking them with Said kanji through other means (ink, blood, burning, etc), forming the same 9 hand seals as above and infusing Chakra into the mark. Once removed, the person should regain all access to their Chakra within seconds.

Name:

Seal Disrupting Seal

Rank:

B

Jutsu Type:

Fuuinjutsu

Elemental Affinity: clan Description:

This is rather an Anti-Seal jutsu, by Placing this seal, which is characterized by the 絶 (discontinue) kanji upon an existing seal, this one will interrupt that existing seal putting its effect to a stop for as long as this one remains upon it. This seal is usually done upon a Tag, marking the proper Kanji and then performing a set of 6 hand seals perform finally infusing Chakra into it, from there the tag is ready and can be placed on any seal. The second method would be to engrave or inscribe the Kanji or the Seal one wants to stop, perform the same 6 hand seals and then infuse it with Chakra. The moment the tag is removed or the inscription undone this seals effects will end and the original seal being discontinued will reactivate as before.

Name:

4 corner perimeter barrier seals

Rank:

A

Jutsu Type:

Fuuinjutsu

Elemental Affinity: clan Description:

This is a Fuuinjutsu technique designed to put up a detection barrier over an area connected to the Ninja who put it up. It involved placing 4 seals, usually a simple Kanji for North, South, East, West in their proper position in relations to each other, to form the four corners of a square spread out to up to 1 mile wide. Once these kanjis are put in place, which can be done through tags or carving or writing out the kanjis out onto proper surfaces the caster must make their way to the approximate center of the "Square" and form a set of 4 hand seals to finally activate the barrier. Once this is done, the caster becomes aware of all chakra sources and signature within that zone, as well as their relative position within the zone. If asleep, the caster will immediately be awakened by a chakra source walking into the area, etc… This is perfect to set up if one wishes to sleep in enemy territory where danger might sneak up on them or such situations. If the caster leaves the square, than he must once more perform the hand signs to once again reactivate the detection barrier.

Name:

Suji Haji Fuuin - Muscle Restriction Seal

Rank:

E

Jutsu Type:

Fuuinjutsu

Elemental Affinity: clan Description:

A seal that send a electrical impule that disrupts the nervsystem so you cant use the body part that the tag is attached on for example a arm or a leg. However if its attached to the enemies neck their whole body gets paralyzed

Name:

Deception's Ward Seal

Rank: Jutsu Type:

Fuuinjutsu

Elemental Affinity: clan Description:

This is a Simple Fuuinjutsu Technique where, by placing the 理 (Truth) Kanji on a person they are forced to speak only the truth, any attempts to lie will fail and cause them great Pain. The Seal is usually applied by placing a Chakra infused tag (creating the tag involved performing several hand signs before infusing it with Chakra) with the above Kanji on it onto a person (Anywhere on their body will do), or by inscribing the Kanji onto them through some means (ink, blood, scarring, etc…), performing 5 hand seals and infusing Chakra into it. Once done the person will not be able to lie until the seal is removed or undone.

Name:

Encrypt missive

Rank:

E+

Jutsu Type:

Fuuinjutsu

Elemental Affinity: clan Description:

To ensure that messages remain secure from prying eyes, Yaizu will sometimes use this sealing jutsu to affect a message and render it unreadable to any that do not know how to unlock the seal.

Lining out a a page with a 4 cornered form (square or rectangle) and placing a Kanji at each corner. Yaizu will write his message within the outlining. Once done he will form 4 set hand seals to activate the seal and 4 extra hand seals of his choice that will act as the "Unlocking code". This done, all writing within the form will disappear. To the receiver of this message, they must place a dot of their blood on the kanji at each corner of the figure and then form the proper 4 set hand seal code. If they fail to perform the proper set, than the message will be destroyed, the seal and the message within will disappear completely and be lost forever. Any attempts to tamper with the seal will also result in the destruction of the message as the message, once made invisible, is actually suspended by the power of the seal, which if disrupted will disappear, taking the seal writings with it.

Name:

Seigyo Tensei no Fuuin - Divine Suppression Seal

Rank: A

Range: 100 meters wide

Type: Fuinjutsu

Elemental Affinity: -

Clan: -

Description:

A unique Chakra stealing Jutsu, developed by the Monks of Thelas mountain to contain Prisoners during interrogations or even torture sessions or to keep an opponent suppressed while action can be taken against them. The Secrets to this Sealing Jutsu were saved and preserved by the hawks of Raptor's peak and made available to Yaizu. This seal requires 3 to be positions apart from each other forming the 3 corners of a basic Triangle ( it does not have to be anywhere near perfect) around a target. By placing a dot of their own blood on each of their palms they can enact this seal by aiming their left palm towards the Sealing partner to their left and their right palm towards the target himself. Each member of the sealing team can be quite far apart, but each member has to be within 50 feet of the target himself. this can also be done with kage bunshins

The effects of this seal are simple, the target of it, once the seal is enacted will be trapped in place unable to move (No phasing or teleportation or any other method known will break them free), if they attempt to use chakra at any levels higher that what is required to survive, that chakra will be absorbed by this sealing Jutsu and stolen from the target. No matter how much Chakra the victim has or attempts to use, it will be stolen from them by this seal the moment it begins to flow, meaning any Ninjutsu will be absorbed and rendered inert the moment the victim of this sealing attempts to focus said chakra, etc… Even Kyuubi levels of chakra would be absorbed by this before it could be used. The more the target attempts to use Chakra the more their Chakra will be lost, a particularly persistent victim might even cause himself death by forcing his chakra till he completely ran out.

The Shinobi partaking in this sealing jutsu need not be anywhere near equal to their target in power or rank, on the contrary, this sealing technique was developed for use against an opponent much stronger than the sealers themselves, why else would such a technique be needed… No specific skills or capability is required by the practitioners of this jutsu other than knowledge of the technique itself and basic Chakra control. No, what matters is the triangle itself, the practitioners could be any one as long as they meet the above criteria.

Despite its remarkable abilities this Sealing technique has its limits. During this technique, the practitioners cannot move from their assigned spots, they cannot lower their arms or stop concentrating. The technique can only be used for a limited time (usually around 1 hour), and that time period can be drastically reduced depending on the chakra levels of their opponent. For example, Kyuubi levels of Chakra being absorbed by this technique would result in the technique only being sustainable for an absolute maximum of 5 minutes or so, if the sealers were lucky, rather than an hour. The stronger the sealers themselves however than the longer they could hold on.

Name:

Gyaku Kuchiyose no Fuuin – Reverse Summoning Seal

Rank: B rank

Type: Fuuinjutsu/Summoning

Elemental Affinity: -

Clan:

Description:

A special Fuuinjutsu technique developed by Yaizu Hyuuga. By marking an individual with a special seal (be it through ink, blood, tag with the seal on it placed on the individual, etc) Yaizu will be able to summon forth that person to him at any time while they remain so marked with the seal in question. To enact this summoning Yaizu will need to scribe proper incantations on a surface surrounging a central Seal/Kanji 傳 (retrieve). This is usually done on a scroll but can be done on any surface. By then performing a set of 3 hand seals and placing a hand upon the Kanji infusing chakra into it, he can summon to him an individual marked as described above, and this from any distance just as if effecting a normal Kuchiyose summon. This can only be done with a single individual at a time of course and is usually used in conjunction with his clones in order to facilitate achieving his Shinsen mode.

Name:

Megurushi Baku no Fuuin

Rank: C

Jutsu Type: Fuuinjutsu

Elemental Affinity: n/a

Clan: n/a

Description:

A fuuinjutsu technique where, after placing a drop of blood in his palm and forming a quick set of 3 hand seals, he will be able to place an exploding seal on any surface he touches with said palm and blood. By performing the proper hand seals, the blood on his palm becomes infused with Chakra. From this point once this blood is deposited on a surface (by Yaizu putting his palm down on it) this deposited blood will immediately and quickly slither around to form the Kanji 爆 (Bomb) and will try immediately, staining said surface with the Chakra infused Kanji. From this point, Yaizu can detonate the seal at any time he wishes through the same means is he would any other exploding tag. Once a mark is made there is no limit on how long the seal will be good for before he detonates it. For a seal to be undone, if noticed on time, it's a simple matter of infusing a second Chakra into it to cancel out Yaizu's own, but obviously this has to be done before he detonates it and will require a moment or so.

Name:

Shodō - "the way of writing" The Art of Calligraphy

Rank: C - S

Range: n/a

Jutsu Type: Fuuinjutsu

Elemental Affinity: n/a

Clan: n/a

Shodō is among the most popular fine arts in Japanese culture, focusing on the beauty of the written word. When used with chakra and the proper incantations, it can become a powerful medium for Fuuinjutsu. This art involves the writing of Kanjies and script to create an effect, usually to seal away, dampen, block or ward against a specified target, be it an object, element, material, Chakra or person. Other effects are possible of course, but each effect requires is own specific script acting as an incantation, and the central Kanji to specify the target or final effect. For example, writing upon a scroll the script to "seal away" an item and placing the kanji for the item intended to be sealed in the center of the script. Shodo involves not only writing the proper kanjies and incantations, but also requires one to know how to right them, each Kanji having a specific method to writing them, a specific stroke, each line coming in order and sequence. Then by forming a hand sign and focusing his chakra he can activate the seal.

The following is a list of Seals Yaizu can write using Shodo.

偵 - spy (D ranked application)

this is a kanji that when placed upon a surface, can be used to sense through, meaning that though he might be miles away, he will be able to sense movement or chakras within a 30 feet radius of the seal.

印 - Mark (D ranked application)

This kanji can be placed on any surface and upon forming the proper one handed hand sign, Yaizu will gain an awareness of the general location of the item tagged, thus allowing him to track it.

燃 - burn (C ranked application)

This Kanji can be placed upon an item that will then burn any that touch it except for the one that wrote the Kanji and activated it. This can be placed on a door, a weapon, an important item, a scroll, etc.

爆 - Explode (C ranked application)

This kanji, can be placed on any surface and, upon being touched or upon coming into contact with a foreign Chakra, will explode with the same force as an Exploding tag, thus making for an effective trap.

債 - bond (C ranked application)

This kanji when placed upon an individual, usually through a tag, will allow Yaizu to sense their physical and chakra condition, thus allowing him to sense when they are harmed or using their chakra. It also allows him to determine how much chakra they have remaining and the level of harm coming to them. He usually uses this with individuals is charged with protecting or with other charges, though this could be used on any one. All that is required to free one's self from this bond is to remove the seal off of one's self.

水/火/風/雷/土 - Water/Fire/Wind/Lightning/Earth (B ranked application)

This is used to seal away an element. Only one Kanji can be placed in the center of any Shodo Scroll or tag meaning only one element can be sealed away at a time. Upon activation of this seal a ghostly smoke will sire from the Kanji and move to envelop the element in question before absorbing it and returning into the Kanji to be sealed away. These sealed elements can later be released at any time with but a hand seal. (should be noted that this is not usable to capture an incoming attack as the process does take some time to complete)

絶 - Discontinue (A ranked application)

By writing the proper incantation and then above kanji in the center, and placing this seal upon another one and forming the proper hand seal, Yaizu can use this seal to disrupt an existing seal putting its effect to a stop for as long as this one remains upon it. This will work against nearly all seals with the exception of certain specialized ones.

禁 - Prohibition (A ranked application) This kanji when placed upon a surface will create a protective barrier around said surface rendering it unbreachable. This can be placed upon a door, a wall, or any surface one wants to keep someone from penetrating through. The weakness of this barrier being the tag itself, the barrier created affects only the surface it is placed upon leaving the seal open to be removed thus negating the barrier unless if it concealed.

征 - subjugate (A ranked application)

This kanji when placed upon an individual, usually through a tag, will cause ghostly links of chains made of Chakra to lash out and wrap themselves around the person the seal was placed on. Once they have wrapped themselves around the person, they will constrict until the person is completely immobilized. Furthermore, these chains emit a good portion of chakra into the victim's body causing a disruption in their chakra network keeping them from effectively molding chakra for jutsu. to be noticed is that it drains the chakra from the one immobilized.

Jyuuken - Gentle fist

Name:

Jyuuken-Hou Teiryuu (Paralyzing)

Rank:

B

Jutsu Type:

Taijutsu

Elemental Affinity: clan

Hyuuga

Description:

This is a simple Jyuuken Technique. By pressing specific tenketsu/pressure along key nerve clusters in a way so as to not close them but rather back them up and cause chakra surges within them, a Hyuuga can paralyses an opponent in place, prohibiting them from moving. To move again the victim will either need to have the tenketsus pressed again, which only a Hyuuga can do, or wait until their network re regulates itself, a process that can take a full 24 hours to happen. This technique can also be used locally, to paralyze specific body parts such as an arm or leg, this requires hitting fewer tenketsus obviously, only those related to the area the Hyuuga is attempting to affect. The strikes used for this technique are delivered with lightning speed, and require minimal actual contact.

Name:

Hakkesho Hirate Houshutsu (Eight Trigrams Palm release)

Rank:

A

Jutsu Type:

Taijutsu

Elemental Affinity: clan

Hyuuga

Description:

This Technique is an advanced Jyuuken maneuver developed by yaizu putting to use his understanding in the control and focus of chakra. A powerful and destructive technique, yaizu will focus an amount of chakra into one of his palms (or two if he needs more power). Finally, aimed towards his target, this chakra will be released right towards them. The Chakra fires out like a powerful energy blast, taking the appearance of a 6 inch wide bright bluish white beam of light, almost laser like.

This blast is very powerful; it could blast through solid rock creating a hole 1 foot wide in the blink of an eye. It can cut through steel just as easily, being a blast of pure concentrated chakra it can also cut through chakra with ease. Whatever it hit gets blasted right through, as if vaporized. Being Pure Chakra and of the jyuuken it can even be used to disrupt Chakra.

jutsu release:

http://de.narutopedia.eu/images/2/2c/Shin-Hakke-2.jpg Name:

Jyuuken-Hou, Rei Zanzou - Jyuuken Style Spirit Afterimage

Rank:

A

Jutsu Type:

Taijutsu

Elemental Affinity: clan

Hyuuga

Description:

This projection creates a after image of yaizu where he is rather than projecting it at a distance. It also does not mimic his movement or attack as he does it, but rather performs a different attack than the one he is doing. Basically this Jutsu creates a pre or after image of himself as he's about to strike, these pre or after images perform a different attack than the one yaizu does, granting him a unique element of surprise, leaving an opponent believing that he has blocked his attack only to have the ghostly projection appear a split second behind him with a completely different and unexpected strike. This projection appears for only a second or so, the time to deliver a single simple blow before evaporating into nothingness. These blows have physical substance, able to make physical blows, it also delivers its own portion of Chakra into a Jyuuken blow.

Name:

Hakke Suraisuito [Eight Trigrams: Slicing Threads]

Rank:

B

Jutsu Type:

Taijutsu

Elemental Affinity: clan

Hyuuga

Description:

This is an advanced Hyuuga technique developed by Yaizu, inspired by the puppeteers, though not actually using chakra strings like a puppeteer. Creates, at a highly reduced level, meaning that these thread like formation of chakra used in this technique are used offensively, and cannot attach to objects like puppeteer strings can. By collecting chakra within their fingertips, whether it is all of them or simply the selected one or ones, the user will create a bright white glow of physically visible chakra at the tips of their fingers. these formations of chakra will whip out and follow the sway of the users hands, potentially creating 10 thread like white formations of chakra that extend out form the users fingertips. The ends of these threads appear slightly thicker then the threads themselves, and are able to target the individual Tenketsu [Chakra Points] within the opponents body. However, perhaps even deadlier then the tips are the threads themselves, which are so refine, yet powerful, that they can slice through nearly anything, creating a very precise cut. The threads can slash straight through almost any type of metal, even cutting through non-physical objects such as pure chakra from other attacks. The requirement for this technique is only that the users hand remains in motion at all times, for if they stop their movement this chakra will die down and diminish.

Name:

Hakke Tenmeibō [Eight Trigrams: Heavenly Commanding Net]

Rank:

A

Jutsu Type:

Taijutsu

Elemental Affinity: clan

Hyuuga

Description:

this is an advanced technique that requires the user to possess acurate chakra control capabilities. This technique bares similarities to Hakke Suraisuito [Eight Trigrams: Slicing Threads], but takes a unique spin on how the threads created by this technique function. To perform this technique the user will begin by collected chakra in the tips of their fingers, building up the chakra until it becomes so intense that it becomes visible in the form of a bluish white glowing light. This technique can only be performed with the use of both hands, for once the chakra is built up within the tips of the fingers, the user will press the fingertips of their hands against each other. From between the two hands, chakra threads will form connecting the opposite finger tips. After this is done the user will repeat the process of touching their fingertips together. However, with each passing time, the user will connect different fingers together, even sometimes touching together the tips on the same hand until an finely interwoven net is formed from the chakra threads. Since this technique requires such a unique and interesting build up it takes a greater amount of time then simpler moves. Thusly, the user must be careful, for if they do not have the time to spend making this net, then they are potentially wasting the chakra through a failed formation of this net. However, once the user has a well-woven net, they will attack with a double-handed palm strike, using more chakra to push this net forwards, which will extend in size to a net large enough to capture another human within. The threads used in this technique do not have a cutting aspect, but instead will wrap around and constrict any target caught within the net, completely binding the target. Once the hit is made, the net constrict around them like a boa, making a full 360 wrap that tightens to the point where any movement becomes difficult. The net can only remain for 5 minutes after formation, and can only be broken by chakra-based means. the threads can also be given a cutting effect however this aspect of the jutsu yaizu rarly use.

Name:

Hakkesho kiritateru

Rank: C

Range: 30 feet

Type: Chakra control

Elemental Affinity: -

Clan: Hyuuga

Description:

This is a simple Jutsu developed by Yaizu Hyuuga. Focusing chakra into his hand Yaizu will then swing it in an arcing motion emitting said chakra as he does so in the form of a 16 inch wide paper thin crescent shaped form of shining blue translucent energy. Easily seen by normal eyes this Crescent blade travels very quickly and cuts as deep as a Kunai or Shuriken. Able to cut through flesh but not bone, none the less it can prove dangerous depending on where it hits. With a total range of 30 feet, this attack will cross its entire range within a second before dissipate into nothingness.

Name:

Streaking Chakra needles

Rank:

B-A depends on type used

Jutsu Type:

Taijutsu

Elemental Affinity: clan

Hyuuga

Description:

A Jyuuken technique requiring relatively strong Chakra Control. The ninja Raises concentrates and fires off small needle like Chakra projectiles from any tenketsu in their Body. These Chakra needles are sharp and pierce into flesh and bone. When hitting a target these needled disrupt the targets chakra flow in the area where they hits. These needles are usually 3 inches long and hair thin, but contain enough concentrated chakra to be slightly visible to the normal eye as a thin shining sliver. This technique can be used to fire multiple needles at a time in rapid fire succession, increasing the total damage done, , , this can result in complete overwhelming of an opponents chakra system, or it can take them down on the pain alone or can simply be used to disable them long enough to close in and finish them off. Or the Hyuuga can fire a burst of needles from each of his Tenketsus simultaneously in all direction from himself, this being effective mostly in close range, or they can be fired individually, one at a time.

Name:

Hirameki no Douran The "Disrupting release

Rank:

b+

Jutsu Type:

Taijutsu

Elemental Affinity: clan

Hyuuga

Description:

The "Disrupting release" is a Chakra control technique unique to Yaizu release Chakra all around them to better detect movement and as part of how their Byakugan vision works. In this case that release of Chakra is intensified at the initial release, causing a disrupting pulse of Chakra instantly affecting an area some 20 feet in all directions. This sudden relase of Chakra momentarily disrupts all Chakra sources within the area. All within will find themselves struck by a sudden intense weakening, loss of balance, loss of strength inability to focus, and barely able to remain on their feet. Basically, they will be disabled as their Chakra network finds itself in flux and disarray trying to resettle. Of course the effects only last momentarily, usually up to 5 seconds 10 at the most as the victims chakra network recalibrates itself. During this time of course the victim can no more use Ninjutsu or Genjutsu, Their Chakra in just too much in. Beyond this they would recover completely and be ready to go, but of course 5 seconds is more than enough for a Hyuuga to take advantage of their opponents sudden misfortunes. a side effect is that it also dispels genjutsus in the area of effect.

Name:

Hirameki no Kaijo

Rank:

A

Jutsu Type:

Taijutsu

Elemental Affinity: clan

Hyuuga

Description:

This is an expansion on the "Hirameki no Douran". Causing the same effect as the "Hirameki no Douran" but taking it one step further. This technique releases a far greater flash meant to not only disrupt an opponent's Chakra flow, but cancel out any chakra existing within 15 feet of the Hyuuga. Basically this Jutsu can cancel out an opponent's Ninjutsu of equal rank or lower affecting anything within 15 feet for a total radius of 30 feet around the Hyuuga by sending out chakra which, when it comes in contact with an opponent's chakra will destroy each other. This can cancel out any area affect jutsu affecting that zone around the Hyuuga or any Jutsu coming at the Hyuuga. So as to make it clear. This will not extinguish Fire or disintegrate water. A flame is a flame, he won't extinguish it with this, but a fire dragon would become nothing more than normal fire if hit by this. Someone shooting fire balls at him from 20 feet out will not be hampered by this, the fire, already having been launched, and having been made into Fire, and chakra no longer needed to keep it going, would keep coming at him. A whip made of fire for example however would fall apart as the chakra holding it together would be extinguished. This Jutsu requires a moment (roughly a second or so) to build up the needed chakra before releasing it, this build up can or course be seen by the Byakugan or Sharingan, or similar Chakra seeing doujutsus.

Name:

Jūho [Gentle Step]

Rank:

A

Jutsu Type:

Taijutsu

Elemental Affinity: clan

Hyuuga

Description:

It is widely known that the Hyuūga are renowned for their Jūken [Gentle Fist] fighting style. The form is gentle and light, able to deliver devastating blows with nothing but a seemingly peaceful touch. However, the form is about more then fists, for the Hyuuga are experts as releasing chakra from any point upon their body. They are graceful, agile, and flexible. These are the principals of the Jūho [Gentle Step]. This style of movement allows yaizu to move swiftly with great speed, as well as move evasively with his agility and flexibility. This is a stunningly different style of movement then what is normally seen in combat, for it adds a high degree of grace to the battlefield. The technique itself does not necessarily require chakra, as it is done mostly through grace. Yaizu has mastered this style of movement to such a degree that he can not only move extremely swiftly and gracefully on the battlefield, but he can also move practically silently,

Name:

Tenrai Hazeru

Rank:

B/S

Jutsu Type:

Taijutsu

Elemental Affinity: clan

Hyuuga

Description:

This technique is both simple and effective, this consists of a sudden, simple yet powerful burst of Chakra emited from yaizu's body. This Chakra burst is partially visible as a distorting chock wave traveling through the air with a slight bluish tint. This powerful burst is extremely quick, happening in the blink of an eye, it's more common application (B ranked Level) will knock any opponent, object or masses within 10 to 15 feet from him (depending on the force he puts behind it) violently away from him with great force. That which cannot be pushed away due to extreme weight or other will still be struck with concussive force strong enough to shatter stone with ease. Even chakra and elemental attacks will be tossed away by this.

An opponent hit by this burst from close in will be tossed away violently and will be hit be concussive impact. The impact from this burst can prove quite painful, especially the closer in one was when hit, damage suffered can range from simply having the air knocked out of oneself if struck at it's outer range and to being knocked out to suffering bone breakage, all depending on how close one was to yaizu and how prepared one was to absorb the shock.

To be clear this is a sudden momentary burst, lasting no more than a fraction of a second, this does not cause a continuous effect, only a momentary one, meaning for example flames, wind or water should be pushed away by this burst, but nothing is keeping the water or air or chakra or fire etc from returning into the affected area a second later after the burst is done and gone. This jutsu serves more to clear opponents way from one's self if overrun or needing space, or to protect from surprise attacks when caught unprepared or to cause concussive damage to surrounding individuals or surroundings. It should be considered as primarily an emergency move however.

This Jutsu usually requires a quick moment (roughly a second or so) to build up the needed chakra before releasing it, this build up can or course be seen by the Byakugan or Sharingan, or similar Chakra seeing doujutsus. However the burst can be enacted without this build up in an emergency but in such cases will be vastly weaker and less effective.

S ranked Variant

yaizu realized that he lacked a truly powerful and destructive jutsu that could affect a large area. With this in mind this variant of the jutsu is the result of his efforts to correct this deficiency. yaizu developed a way of pushing his Tenrai Hazeru Jutsu to a far greater level, Amplifying it's power and effect effect 20 times over. To enact this more powerful Version, yaizu will need to form the Ram hand sign to aid him focus the tremendous Chakra required. This process take approximately 5 seconds, where the very air around himwill seem to begin distorting. Finally, in a last act of willpower, yaizu will release the collected Chakra in a single powerful burst of energy destroying everything in its path up to 100 meters out. The very ground below him will be crushed and compressed by the force. Creating a crater up to 30 feet deep. Everything within this 200 meter radius will be reduced to little more than rubble and dust in the matter of a seconds or two, making the odds of escaping it extremely unlikely. Able to destroy a city block, this Jutsu utilized a full half of yaizu's full Chakra capacity, and greatly disrupts his Chakra network.

After utilizing this version of the jutsu, yaizu will be unable to use any Jutsu or Chakra manipulation for 1 post (Not including his Byakugan).

Name:

Seishouken - Spirit blade [X]

Rank: A

Jutsu Type:Chakra Control

Elemental Affinity:

Clan: Hyuuga

Description:

This is a Jutsu developed by Yaizu Hyuuga. This jutsu creates a blade of pure chakra appearing as an intense yet focused undulating blue ghostly energy, almost flame like. It extends out from Yaizu's upper arm, engulfing his hand and extending out roughly 3 feet past his fingertips, though Yaizu could temporarily extend it out up to 6 feet in length ny focus more chakra into it. Usually his hand, from wrist to finger tips, needs to be kept in straight alignment lest the blade become deformed and unstable. The blade takes a moment of focus to create but requires no hand signs.

The blade has the particular capabilities of being able to cut through anything made of chakra (though a continuously regenerating chakra technique such a Kaiten would refill immediately behind the cut) including elemental chakra, but cannot cut into or through mundane matter. As such it is used against chakra itself, and not the physical. When used against a living target, Yaizu does so by targeting their inner Chakra coils and inner organs (this cannot target Tenketsus), the sword will not cut through their flesh. Where ever the sword passes through the chakra network will result in the network being overwhelmed and disrupted for up to several hours, so for example cutting through the arm would disrupt chakra flow to that arm rendering it useless and paralyzed for several hours without actually cutting it. When stabbed into a target as for as long as it remains within them, their chakra network will go haywire leaving them unable to mold chakra or focus it until the blade is removed, More than this, a stab or cut into vital organs such as the brain, heart or lungs will prove fatal, overwhelming chakra flow to those organs and thus causing them great damage and harm. This technique doesn't require much chakra, instead relying on how well focused it is, and this is in part why it will not cut through solid matter, but then it has intentionally been designed that way. It is however extremely difficult to perform and would be impossible to do without a Hyuuga's blood.

Name:

Shiten Hidama - Heavens falling star

Rank: a/s rank

Type: Chakra control

Elemental Affinity: -

Clan: Hyuuga

Description: A powerful offensive technique developed by Hyuuga Yaizu having both a devastating effect as well as a more subtle one. Yaizu will begin by raising his hand palm up and focusing chakra to it. This chakra will immediately emitting out forming into a large yet condensed sphere of chakra. This sphere takes a moment to collect and grows to approximately 1 foot in width. This sphere will remain suspended a few inches from his palm, regardless where and how his hand moves until he releases it, this unless he is forced to lose his focus, if this does happen than the sphere will fade to nothingness. Once the sphere is ready, Yaizu will launch it with a throw, sending it at extremely high speeds towards his target. When the sphere hits it explodes in a massive release of energy causing devastation in an area 50 feet wide. Concurrently, the blast releases a chock wave of chakra out 40 feet from the point of impact disrupting all other chakra within that area thus disrupting all jutsu in the area during that time. Due to its large area of affect Yaizu must be careful to be safely far enough lest he gets caught in the blast himself.

S ranked variant

the s ranked variant take alot more time to prepare but it have a bigger and more devestationg effect. yaizu will release the collected Chakra in a single powerful sphere of energy destroying everything in its area of effect. Everything will be reduced to little more than rubble and dust in the matter of a seconds or two, making the odds of escaping it extremely unlikely. Concurrently, the blast releases a chock wave of chakra out further increasing this jutsus destructive effect. Able to destroy a city block even a whole city if used correctly.

Name:

Hakke Geigekisho – 8 Trigrams intercepting Palm

Rank: A

Range: 15 feet

Jutsu Type: Chakra Control

Elemental Affinity:

Clan: Hyuuga

Description:

An advanced application of Jyuuken targeting Chakra in Jutsu rather than in the body. A basic truth known to all Jyuuken practitioners is that 1 chakra will be canceled out by placing another into it, thus forming the basis of Jyuuken. In this case, the jutsu involves canceling out a chakra based technique (Elemental or otherwise) by placing an equal or superior amount of his own chakra into it. By touching or reaching towards any form of chakra (within 5 meters of her) and channeling her chakra into it and infusing it, he will be able to cancel out the chakra used to fuel said technique as long as he is infusing at least as much chakra into it as was used to create and fuel the technique. The chakra he infuses into said jutsu can if he so wishes be emited around his reaching hand, thus forming a protective coating to keep him from direct contact and harm. Once his Chakra is infused into said jutsu, anything sustained or maintained in that technique by chakra would be undone though solid mundane matter (Earth, Water, Metal, Wood, etc) would obviously persist though all influence on it through Chakra would cease. What this means in practice is that, an incoming ball of fire countered by this technique would evaporate to nothing, but a jet of water would still remain would not simply vanish as it is actually made of solid material, instead for example, a water dragon countered by this would see all chakra influence on it disappear and thus the water dragon would simply fall to the ground reduced one more to mundane water. If Yaizu cannot match the chakra in a technique than he cannot cancel it out, but only weaken it at best. Thankfully, with the Byakugan he can easily and precisely determine how much chakra is used in a technique and how much he needs to put out. It should also be noted that Yaizu can also release this chakra from his entire body to cancel out jutsu surrounding him, it does not have to be only from his hands.

Name:

Hakkesho Nankan – Heavenly palm Barrier

Rank: C/B/A/S

Type: Chakra Control

Elemental Affinity: -

Clan: Hyuuga (Must be learned)

Description:

A Hyuuga clan Technique where one emits Chakra from ones palm (or both) to create a 4' by 4' wide (or 8' by 8' feet wide if using both hands) barrier of chakra which acts as a shield to physically block or deflect incoming attacks, be they physical or made of energy. How strong this barrier is can be determined by the Hyuuga creating it and can be altered to fit the circumstance (each rank able to block against an attack of equal rank) The main weakness of this technique is that it can only protect from one direction at a time thus lacking the kaiten's complete protection, and uses up it's equivalent rank in chakra per post activated.

Name:

Hakke Shou Amearare – Eight Trigrams Heavenly Palm Barrage

Rank: C

Range: n/a

Type: Taijutsu/Chakra Control

Elemental Affinity: -

Clan: Hyuuga

Description:

A simple Jyuuken technique where a Hyuuga will release multiple bursts of chakra out from their palm while delivering a strike, meaning that each palm strike can cause multiple impacts. In essence, when launching a palm strike towards a victim, the Hyuuga will release several (normally 3 or 4) bursts of chakra from their palm towards their victim in rapid fire succession before making contact (once their palm reached within 1 foot of the victim), each with force comparable to a strong punch thus allowing the Hyuuga to deliver multiple hits with but one strike. In fact the Hyuuga needs not even make contact with the victim for this to work, as long as it reached within 1 foot.

Name:

Jyuuken Hou, Sofutotacchi

Rank: C

Range: -

Type: Taijutsu/Chakra control

Elemental Affinity: -

Clan: Hyuuga

Description:

A technique developed by Hyuuga Yaizu originally meant as an aid to certain ANBU duties he was sometimes called upon to do, more specifically interrogations and questioning. It has however since been expanded and perfected to the point of being quite an effective combat technique. This involves the use of Jyuuken to force a portion of his Chakra into a victim's body, more specifically one of any 24 special nerve clusters located throughout the body from the solar plexus, along the Occipital lobes, the temples, along the spine to even in the palm of a person's hands. The Chakra introduced into said clusters causes these clusters to become hyper activated which is then translated to the victims entire nervous system, in effect enhancing their sense of touch and pain. The level of effect depends on Yaizu and the force with which this jutsu is enacted. Depending on this force and Yaizu's desire, a victims sensitivity to pain may be multiplies anywhere from several times over all the way to becoming so sensitive that even a gentle breeze against their skin may become excruciating. Reversely this technique can also be used to increase a person's sensitivity so as to increase comfort of pleasurable sensations from touch, all depending on how said chakra is delivered to the victim and the force behind it. This makes for a very effective interrogation aid, both allowing him to punish and reward a target with little trouble, as well as being an effective combat technique when effectively used against an opponent.

Name:

Hakke Senkou Shou – Eight Trigrams Divine Rupturing Palm

Rank: B

Range: n/a

Type: Taijutsu/Chakra Control

Elemental Affinity: -

Clan: Hyuuga

Description:

A special Jyuuken technique, this is a single strike aimed directly at the core of an intended victim's chakra network from which Chakra begins flowing into the body. The Hyuuga will gather a large amount of chakra to their hand and send their palm thrusting towards the victim releasing said chakra in one quick blast which for a split second will look like a thin thread like flash of white light blasting from the Hyuuga's hand into the victim's body and out the other side. (The strike can either make contact with the victim or not, as long as the palm comes to within 2 foot of the victim the actual attack will connect.) The collected chakra is then blasted forth with such ferocity as to tear a breach within the victim's chakra network causing Chakra to immediately begin to bleed out. This attack is aimed at a victim's chakra core because it is intended to cause the victim's chakra to bleed out before it can flow into their chakra network, thus greatly reducing both their physical energy and strength, as well as significantly reducing the amount of chakra available to them for jutsu (reducing a victim to jutsus 2 ranks below what they could normally use, meaning S ranks and Jounin could use up to B ranked jutsus only, Chunin up to C ranked jutsus, while Genin could not mold any chakra at all.) The level of Chakra bleeding is roughly equivalent to a taxing A ranked jutsu per post (equivalent to Chidori for example) and will continue to bleed out till depleted, (this in essence would drain an average Jounin within 6 posts, half that for the average Chunin and double for the average S ranked). Also, though this attack targets the Chakra network only and does no physical damage at all, it is none the less extremely painful and the pain will last as long as the breach exists, which can take days to heal itself on its own. Also it should be noted that this chakra bleeding is invisible to normal eyes, requiring the ability to see chakra as possessed by the Byakugan or Sharingan to perceive visually, however the victim will most definitely feel its effect obviously. This chakra breach will heal itself in time (usually requiring several days)

smartfiredragon
Jounin






Subject: Re: Hyuuga Yaizu's jutsus (revamped) Sun Sep 26, 2010 11:27 am

---

Yaizus jutsus only he can use them so far and they are ©

Kekkai – barrier jutsusKekkei no Jutsu, Tengai no Tsutsumikakushi - Barrier Technique, Dome of Concealment Rank:

A

Type:

Kekkai

Elemental Affinity

: -

Clan:Description:

After forming a series of 8 hand seals and slamming his hands onto the ground, Yaizu will create a spherical barrier around himself some 10 to 20 feet wide depending on his will and effort and will remain as long Yaizu focusing on it and feeding it chakra. This barrier will make Yaizu and all within undetectable to any means by any person, thing or creature outside the barrier, allowing him to hide from all. Nothing not even sharingan byakugan or the famous rinngan can see through this barrier. However this barrier hides those within, it but will not keep any one from passing through it, meaning a foe could walk right through it in which case they would find Yaizu and those within visible and detectable before them. The same applies to attacks, this barrier in no way blocks any attack from getting through. Also the same is true of any within it, they could easily step out at any time, all except for Yaizu, once he steps out then the barrier will fall and disperse, it does not follow hin or move, the barrier will remain centered around where he slammed his hands after forming the proper hand signs.

This barrier is created by a particular form of spiritual energies of sorts, it is created and maintained through his willpower rather than through Chakra itself, chakra in this case acting as a catalyst rather than being the source. The longest he has been able to maintain this barrier was for 9 hours.

Kekkei no Jutsu, Tengai no shin'yuu - Barrier Technique, Dome of Divine protection Rank:

S

Type:

Kekkai

Elemental Affinity:

-

Clan:Description:

After forming a series of 8 hand seals and slamming His hands onto the ground, Yaizu will create a spherical barrier around himself some 10 to 20 feet wide depending on his will and effort and will remain as long Yaizu focusing on it and feeding it chakra. At B rank, this barrier can withstand 5 full B ranked attacks head on before going down or 2 A ranked attack head on after which Yaizu would need to reactivate the justu. At A rank, this barrier can take 5 A ranked attacks head on or 2 S ranked jutsu attack before falling, which again, will mean he will need to reactivate it. at S rank this barrier can withstand 5 S rank attacks or 2 SS ranked ones.

At any time however, Yaizu can use more of his chakra to reinforce his barrier to keep it up being it's normal capacity, this however would require him to use an equivalent amount of chakra as if he were activating this jutsu anew. This has to be done before the barrier falls however, once it does it's will be to late and will require him to reactive the jutsu from scratch.

It should be noted that while this barrier is on, and following the limits outlined above, nothing can get through this barrier while it is up, no physical attacks, no elemental or Chakra based attacks or anything else, neither phasing nor space time jutsu will allow to pass through it either, there is no way in or out as long as the barrier in up. Even Yaizu cannot pass through it or attack through it essentially forcing a stalemate temporarily. Also the only way to compromise the barrier is to overpower it as described above, no other means can bring it down.

This barrier is created by a particular form of spiritual energies of sorts, it is created and maintained through his willpower rather than through Chakra itself, chakra in this case acting as a catalyst rather than being the source. Being that this is created by Yaizu's willpower, it being active for prolonged periods can prove rather taxing on his mentally, tiring his mind as he maintains it. The longest he has ever been able to maintain this barrier was for 5 hours.

Kekkai sub summoningKoko no Jomon (The Gate of Tiger Fang)http://images4.wikia.nocookie.net/bleach/en/images/8/85/The_Gate_of_Tiger_Fang.jpgRank:

S

Type:

Kekkai

Elemental Affinity: Clan:

thelas monks

Description:

This barrier appears out of nowhere and takes the shape of a watermill. It's inner section can be opened up like a set of fangs allowing one to attack through the barrier. when you open it you can get very exposed if not careful a big weakness with the use of this barrier

Ryubi no Jomon (The Gate of Dragon Tail)http://images4.wikia.nocookie.net/bleach/en/images/9/99/The_Gate_of_Dragon_Tail.jpgRank:

S

Type:

Kekkai

Elemental Affinity:

-

Clan:

thelas monks

Description:

The technique works by creating over a dozen pillars which are arranged by hand gestures, making them form a gigantic shield or door like barrier between the caster and the opponent is said to have the ability to absorb the attack to make itself stronger. A great weakness of this shield however is that when summoned it blocks the view of the opponent unless you go around it or unsummon it

Kikai no Jomon (The Gate of Turtle Shell)http://images1.wikia.nocookie.net/bleach/en/images/b/be/The_Gate_of_Turtle_Shell.jpgRank:

S

Type:

Kekkai

Elemental Affinity: Clan:

thelas monks

Description:

This barrier is created by many small hexagons combining to form a honeycomb-like structure which is its base form however Yaizu can use the hexagons to give the barrier a new shape for example a half sphere dome

Weakness: it takes some time for him to mold enough chakra into the dome so he can reshapeit and since he cannot move when doing that he's very exposed and vulnerable until he have molded enough chakra

Hoyoku no Jomon (The Gate of Phoenix Wings)http://images2.wikia.nocookie.net/bleach/en/images/0/0e/The_Gate_of_Phoenix_Wings.jpgRank:

S

Type:

Kekkai

Elemental Affinity: Clan:

thelas monks

Description:

This barrier is created from an obelisk and many planks combining to form a sort of lampshade resembling enfolding wings and a crude bird's head/body this is mostly used when he's using the Shiji no Saimon technique

Weakness: only works like a roof which only make this barrier useful when using the Shiji no Saimon or when defending against air attacks

Shiji no Saimon (The Gate of Four Beasts)http://images4.wikia.nocookie.net/bleach/en/images/6/6f/The_Gate_of_Four_Beasts.jpgRank:

SS

Type:

Kekkai

Elemental Affinity: Clan:

thelas monks

Description:

This barrier is formed by combining Ryubi no Jomon, Koko no Jomon, Kikai no Jomon and Hoyoku no Jomon. When the four barriers comes together they create a rectangular prison like barrier around the opponent. Drawing the chakra from the ones trapped within it and also from the nature around it (sage chakra) no physical attacks, no elemental or Chakra based attacks or anything else, neither phasing nor space time jutsu can break out of it its said that this barrier even can hold the 9 tail beast without problems however that has not been tested but its known it can hold up to the 7 tail beast without any troubles In it

Weakness: leaves yaizu completely empty on chakra takes a long amount of hand seals to use only the user can go in and out throught it so if hes not careful he may trap allies inside it as well

Bakudō (Binding jutsu)Hoi (Engulf)

: the base for all of the binding jutsus where he choose target. Yaizu does that by locking on to the chakra of the opponent. He can lock on to up to 5 targets at the same time

Ketsu (Bind)

: after forming a set of hand seals Yaizu only needs to say ketsu and the name of the binding jutsu he wants to cast. For example he gonna use kurohitsugi he forms handseals for ketsu then he says ketsu kurohitsugi and the jutsu is activated and fired at the opponent/opponents he have locked onto

Name:

Hyappo Rankan (100 Stepped Rails)

Rank:

B

Jutsu Type:

ninjutsu

Elemental Affinity: Clan:

thelas monks

Description:

The user will first form the hand seals for the jutsu then slam both palms together, he will then pull his palms a part and a kind of spear will form out of Chakra. The user then throws the spear towards his target and while in mid air the spear will divide into several more spears that will follow the target until they either hit him or an obstacle. When a target is hit they will not receive any more physical damage then the one they would receive from being hit by a blunt weapon but the spear like chakra will seem to pierce the target, in reality they simply block the chakra flow to certain areas of the body like for example they will stop the chakra flow of the target's arm if it hits the shoulder but if a couple hit the area of the bellybutton it will stop the user's chakra flow and production.

Name:

Danku (Splitting Void)

Rank:

A+

Jutsu Type:

ninjutsu

Elemental Affinity: Clan:

thelas monks

Description:

The user gathers Chakra and forms the necessary hand seals. Chakra will flow out and form a wall in front of the user, 3 times wider and 2 times higher then the user. This wall is capable of blocking 3 A-Rank jutsus before it starts to crack, lower rank jutsus will have no effect. the user must not stay since the wall upholds itself after being cast making it a perfect jutsu to use when trying to escape. however the amount of time that the wall stays is very short unless the user stands there with a hand on it and hold it together if the user do so he can also renew the jutsu so it can take more damage just by infuse chakra into the wall.

Name:

Bankin (Great Seal)

Rank:

A

Jutsu Type:

ninjutsu

Elemental Affinity: Clan:

thelas monks

Description:

The user first places his index fingers on the ground and draws two straight lines on the ground with the other hand he forms the necessary hand seals, Chakra will flow out and wrap around the target head to toe in the form of a chakra fabric, hard as steel. Afterwards the user slams his palms in a prayer like pose and focus then more chakra flows out and stabs the trapped target with numerous energy arrows, hard as metal. Finally the user slams his palms together once again and a insane amount of Chakra will flow out and form a big block, hard as metal, above the target that shoots down flattening anything bellow. This is a very extreme binding seal and so far yaizu hasent had any need to use it.

Rikujoukourou ("Six staves of binding light") Rank:

B

Type:

bakudo

Elemental Affinity:

-

Clan:

thelas monks

Description

Creates a rod of condensed chakra that when thrown with a single command from the user splits into six smaller rods that when they hit the opponent turns into almost unbreakable bands the six staff aims for the arms the torso the head and the legs to pin the target down to the ground

Kurohitsugi ("Black Coffin") Rank:

S

Type:

Bakudo

Elemental Affinity:

-

Clan:

thelas monks

Description

The user first points the his finger towards the target and releases a large amount of his Chakra making it form a black box around the target, then from the walls of the box forms hundreds of huge black spikes that stab the box many times lacerating the one inside from head to toe. This box and the spikes are virtually indestructible. Its appearance and function is reminiscent of a common magician's trick, as well as certain torture devices used during the Spanish Inquisition. Yaizu can control the size of the box and make it large enough to fit just one person to dont waste mana or make a big one to trap several people he can also control either he want spikes or not to appear from the walls of it

smartfiredragon
Jounin






Subject: Re: Hyuuga Yaizu's jutsus (revamped) Sun Sep 26, 2010 11:27 am

---

Kuchiyose

Hawks story how he got the contract
After discovering a Corps and mystery in the forests of Fire country Yaizu discovered the Great Mountain Hawks of Raptor's Peak, Helping them retrieve their stolen Summoning scroll and Quill he returned the items to them and was thus rewarded by being granted permission to sign their summoning contract. These hawks are Natural Fuuton users. Some of the elder Hawks are also known to use Raiton. Whatever Ninjutsu they may possess, even the smallest and youngest of hawks are renowned for their natural speed and agility as well as their keen eye sight and their razor sharp talons.

The Great Mountain Hawks once roam the skys freely. It wasn't uncommon sight to see one passing over head when near a mountain range. They dominated those regions, their rule unquestioned. In those ancient times, the Hawks were regarded as guardians and masters of the sky. Their great powers over wind and flight, their courage and nobility, their powerful and swift bodies and their acrobatic combat skills meant they were both revered and or feared and highly respected.

Those old days are gone however. in the modern age the hawks are gone. retreated from those territories they once called their domain. They have withdrawn from the world. The reasons are many. their numbers grow smaller, as do the numbers of their prey, forcing them to gather together in a single place. Also Man takes more and more room . Room which the Hawks willingly give to the young developing race. And perhaps quite simply their interest in the world has diminished. rather they seek new horizons and new truths to explore, things best done away from prying eyes.

Whatever the reasons, Zagorta, The oldest, wisest and most powerful of the Hawks, lead his people into isolation in hopes that they would find their new path in life in peace. They have broken free from the world. but not entirely forgotten it. On extremely rare occasions, and if ones eye sight is very good and possess great luck, one might see a great hawk flying high above in the sky. A select few are even luckier, they are given the privilege of being able to summon them, calling upon the great Hawks and their magnificent power to their side and service.

These Hawks often have two forms. Unlike Normal Hawks the Great Mountain Hawks grow to incredible size as they age. They can however transform into more normal sized forms, and usually unless in difficult battle, will remain in their smaller forms when away from Raptor's peak. Younger Hawks such as Yiga however only have one form and size, that of a normal Hawk.


Taka Jutsu – Hawk Arts

Name: Taka Zume - Hawk Talons
Rank: E+
Jutsu Type: ninjutsu
Elemental Affinity: -
clan raptor peak hawks
Description:
This is a jutsu learned from the Great Mountain Hawk that will allowYaizu to grow real and deadly razor sharp talons at the tip of his fingers that can tear flesh and bone with ease. This is the first of a series of special transformations that the Hawks taught Yaizu. To create these Claws Yaizu must call them forth as if a summoning.

Name: Hyakutakarasu no Jutsu - One Hundred Scattered Hawks technique
Rank: E
Jutsu Type: ninjutsu
Elemental Affinity: -
clan raptor peak hawks
Description:
Hyakutakarasu is a summoning Technique developed by Yaizu Hyuuga with the Aid of his Summoning Hawks. Performing the Summoning Jutsu Yaizu will call forth 100 Hawks to appear within an area so as to flood it with activity. These Hawks will fly where directed by Yaizu, usually around a target, causing confusion with their constantly and rapidly moving forms and endless screeches. Himself or an ally could move within the flock almost undetected. With the target distracted by the Hawks, Yaizu can strike more easily and undetected till the last moment. Also the mass of hawks can obscure any retreating ninja. When no longer needed, the Hawks will simply puff away in smoke, which by itself can also prove quite effective to cover ones movements. its also a good compliment jutsu before he uses taka ishuu

Name: Taka Bunshin no Jutsu
Rank: B
Jutsu Type: ninjutsu
Elemental Affinity: -
clan raptor peak hawks
Description: This is a Jutsu Taught to Yaizu by his summoned Hawks. Yaizu after forming a 6 hand seals will create a Clone of himelf composed of Hawks, The Yaizu clone can disperse into multiple Hawks at any time which still maintain his consciousness until they disperse, allowing the clone to speak and react while in crowd form. This Clone can attack with Taijutsu equal to Yaizu's skill though cannot use Jyuuken. It cannot use any of Yaizu's Ninjutsu other than his Hawk Arts. It does not possess the Byakugan though can pretend to do so, even taking the appearance of it happening, though it does have the full sight of a Hawk meaning extremely detailed and to a far range in some ways mimicking certain Byakugan abilities. A single blow is enough to cause the clone to disperse into dozens of Hawks not to return. Yaizu particularly likes using this type of clone as a distraction or to cover his own movements.

Name: Taka Ishuu
Rank: B+
Jutsu Type: ninjutsu
Elemental Affinity: -
clan raptor peak hawks
Description: This is a special Hawk Art Technique Yaizu learned from the Hawks of Raptor's peak. Forming a single focusing hand sign Yaizu can make himself disperse into a multitude of hawks, usually numbering 20 or so. Able to reform at any time, he is still able to speak while in this multi Hawk form, speaking from each and every one of them. There are no real offensive capabilities in this form, As long as a Single Hawk remains he can reform. If all Hawks are killed or destroyed than he will die also. Also he is aware of what each Hawk sees, hears, smells, experienced etc, allowing him to perceive event from multiple points of view. Usually this hawk swam must remain within a certain distance from each other, within one mile.

Name: Taka katachidzukuru – Complete hawk transformation
Rank: A
Jutsu Type: ninjutsu
Elemental Affinity: -
clan raptor peak hawks
Description: This is an advanced transformation technique learned by Yaizu from his Hawks. More than simply Hengei no Jutsu, this is a full and complete transformation, it will not be dispelled after a simple hit, rather he truly takes on the form of a hawk, and will need to perform the Jutsu again to transform back into Human form. Even the Byakugan would be hard pressed to realize his true nature while in Hawk form, the only evidence of which would be his white on white eyes, signature of the Hyuuga and his more numerous Tenketsus (If the Hyuuga possesses a powerful enough Byakugan to see them) equaling those of a Human.

He was taught how to transform into a full fledged Hawk as a reward after accomplishing a task given to him by the leader of the Hawks of Raptors peak, retrieving a lost air loom.
The Transformation itself is quick and instantaneous; a small puff of smoke and it's done. It requires no hand seals to perform, rather relying on the large tattoo Seal placed on his back and beyond.

In his Hawk Form Yaizu takes on the appearance of a Red Tailed Hawk, with grayish near white feathers with darker grey highlights throughout his body except for the darker (near black) wings where the light grey becomes the high light and his red tail. In his Hawk form she measures 22 inches in length with and weighs about 2 pounds, He possesses a 46 inch wingspan.

He has a cruising speed of about 40mph (65 kph) and can, in short bursts of level flight, achieve speeds approaching 70mph (110kph). His diving speed is a little over 120mph.

Yaizu has become quite skilled at Aerial maneuvers and Physical Combat using this form, however this is more of a means of travel and infiltration, perfect for spying especially since Yaizu's Byakugan remain with him in this form. His Hyuuga Chakra control is also maintained now that he has become used to this form, allowing him to use any of his Doujutsu Techniques as well as most non combat Chakra Control jutsus. Jyuuken however is lost to him in this form.

smartfiredragon
Jounin






Subject: Re: Hyuuga Yaizu's jutsus (revamped) Sun Sep 26, 2010 11:33 am

---

fightning styles

Saru Tentei no Goken - Heavenly Monkey King of the Strong Fist
Rank: A
Jutsu Type: Taijutsu Form
Elemental Affinity: None
Clan: Thelas monks

Description: It is a very powerful style that is centered around three concepts.
The first is determination, the will to fight on even if the world seems lost and your body gives up.
The second is brutality, the showing of no restraint to the enemy; if they have earned it then they cannot be given mercy they denied to others.
The third is the simplest of all, speed; with speed no enemy can fight you face to face.

The brutality comes from the Chakra Goken. The Goken form focuses on injuring the body and breaking bones, dealing primary damage to the outer body. Attacks like Konoha Dai Senpuu, Konoha Gouriki Senpuu and Konoha Shoufuu fall into this category. This idea of flashy-footwork sets up the basis for the movement of the style and use of speed. Then, using the brutality of the Chakra Goken you begin to piece the non-existent forms together. The Chakra Goken uses chakra to cause blunt trauma to the internal organs through chakra, using the entire body as a weapon from the feet to the elbows, knees and even the head.

The style has three elements to it in combat in addition to the guiding principles. The first is "Monkey See Monkey Do". When fighting, the easiest way to beat the enemy is to play to their weakness, however this style takes it one step further by playing to their strengths in order to create weakness. The most effective way to do this is to throw the same Taijutsu that the enemy does, back at them and then counter with something in addition. An example would be a kick to the mid section. The user would counter with an exact kick to the mid-section on the enemy, blocking the first attack, and then counter with another move higher on the body, in this example throwing an elbow at the enemies head. Mixing this in with the innate speed this style requires allows the user to block and strike, counter and move forward all at once.

The second element is "Prime Targets", this element relies on the user attacking the weakest and most vulnerable portions of the human body first and as often as available. This means that the head and chest become valuable targets that the user will focus on quite often. This in addition to lesser points like the back of joints are also valuable. The theory behind this extends further, stating that if a strike occurs outside of the valuable targets then another must be delivered to a valuable area. This results in a strike to the mid-section leading in some way to a strike on the head or back or a joint.

The third element is known as "What Cannot Be Seen Cannot Be Killed". This is the truest incorporation of the speed, stating that one must always attack from a different angle than before, whether the user must roll to the side, twist around, bounce of the enemy, sweep and counter, etc.. Using this in conjunction with the other two phases allows the user to keep the enemy of balance via their core shifting to different angles of conflict, meaning that an off balance opponent will fall harder and faster. If the user like Yaizu is very good at focusing and releasing chakra this effect can be devastating, sending the enemy one direction and then attacking them from another, flinging them around some more

However, there are some things that the principles cannot teach you about the style. That is the flashy nature and high flung acrobatics. To be done correctly the ninja must not fear mistakes, must not worry about appearances. Though, we have seen when it is done correctly the art of dodging becomes second nature, and it is much harder to land a hit than to merely surrender. Which means to master the style you must have an innate confidence, something that again can't be taught.

An example of the style would be a one on one fight. The user would begin by driving in and attacking from behind, using fluid means to get to the flank of the enemy. If they were attacked during this time they would block with the same move and attempt to attack again with another limb, ranging from an elbow to a kick, even a head butt. Then, keeping with the same idea the user would move to another angle and attack again. All the while using the enemy against themselves, if they are too focused on the upper body then the fighter would send a sweeping kick low, only to follow with a powerful blow to the head. This mixture of light to powerful, high to low, side to side is what makes this style so hard to defend against. If used along with chakra releasing techniques the damage can be magnified. Also, if the enemy were to take the offensive then the fighter would use their agility and atheisms in a feral manner to move off and find a blindside or better angle to start the confusing attacks over, high low, side-side, weak-powerful, fast-faster. If the enemy is
weak in mind or weak in body they will lose

So yes, the Saru Tentei no Goken is a strange style built on principal. There is no stance involved and no form to block, there is only instinct and reaction, brutality and heart. One that can fight the style head to head as yet to be found, and no one knows if they ever will.


"Speed is the Gift of Training"

Through the training the ninja said to be among, if not the fastest shinobi in the world; Yaizu has become a speed-demon in his own right. The training started with Zen's work un-inhibiting the mind from slowing him down, as well as building his stamina and his pain tolerance. The next step is making sure his body can handle movement of such a high degree, meaning even more stamina and cardio training. Zen's version of stamina training consists of standing on top of a body of water, after having been depleted of chakra. To match the acrobatic focus needed Zen supplements the ninja with "free-running" work, giving them freedom to control their body, allowing possibilities to surpassed in ways that are both fun and educational. All this aside the training has taken Hyuuga Yaizu to the tip of the speed scale, making him a deadly Taijutsu fighter, faster than most ninja in all countries, making him ideal for assassination and scouting operations. If you find yourself asking yourself who is faster, be assured it is him.



Shinkage ryu
Rank: B
Jutsu Type: KenjutsuForm
Elemental Affinity: None
Clan: None

This was the Kenjutsu style practiced by "Hyuuga Satsuya", Hyuuga Yaizu's Father, a tradition in the family. It was Practiced by Satsuya's father and his father before him. It was also practiced by Yaizu's uncle, who in turn was the one to fisrt begin teaching him when he received his father's ANBU sword after his passing away while on mission.

Shinkage-Ryu is one of the most successful and revered ancient Kenjutsu styles in the ninja world. It was designed as an answer to the changing face of war that came with the advent of ninjutsu and the Ninja clans. , this is a perfected style of sword fighting that is freer in its movements, more sparse, more restrained, more adapted to duels and one on one combat, than to the fields of large scale battles. It is by definition a dualist's form.

The style can be described as an extremely adaptable system focused on adjusting to one's opponent and adapting to the opponent's weaponry, contrary to many other sword styles which teach to impose dominance without taking into account the opponent, and thus in this manner this style can be considered a reactionary one.

This may seem as a weakness to some, but on the contrary, it allows one to adapt one's own combat style to any situation much more easily thus increasing the odds of victory when facing adversity and the unknown.

This style focuses greatly on the "power of adaptability" in facing different individuals. Much as a captain must consider the winds and change sails in order to travel in the best direction to reach his objective. It is similar to a hunting hawk, which must constantly reconsider the best trajectory in which to strike effectively. Like the raptor, it is necessary to be able to anticipate, to be able to assess and definitively act.

"Move with the mind, in order to move with the body" is one of the central tenets of the school. One particular form of the style called Katsujin-ken (the One who preserves Life, the Sword of the Victor). Katsujin-ken teaches that, if one's sword does not stop the movement of the enemy, then one may try to fit to the opponent's rhythm, thus entering into the mind of the adversary to find his weakness. Yaizu has alterd this combat style a little so it fits when he fights with his spear

smartfiredragon
Jounin






Subject: Re: Hyuuga Yaizu's jutsus (revamped) Sun Sep 26, 2010 11:34 am

---

Shinsenjutsu
神仙術

The path to Immortality

The ultimate goal for any Taoist is to achieve "Tao", to find "the way". Tao being the ultimate reality, a presence that existed before the universe was formed and which continues to guide the world and everything in it. Tao being identified as the source of all things and it's guiding force. By developing true harmony with nature and the universe, the Taoist finds immortality thus gaining true mastery over one's own existence.

The path to developing this harmony and unity with tao is both a spiritual and physical one, both being interlinked, it is only by achieving inner balance and inner harmony that one can do so with what is without. One's energy (chakra) is as much a physical thing as a spiritual one, and thus both aspects must be seen to and developed. What this means is that care of one's body is just as important as the elevation of one's soul. Proper eating and exercising play as important a role as meditation does, one without the other is not enough.

As both the body and soul are elevated an inner balance is created and developed. The greater the level of inner balance that one achieves the closer one comes to harmonizing with Tao and thus the closer one comes to achieving immortality.

Personal Path

The Hyuuga clan is one which has traditionally followed the philosophies of Taoism, the Byakugan's ability to see one's inner energy (Chakra) and it's flow down to its deepest level is perhaps the greatest reason that most Hyuuga adhere to Taoism, and why the clan has such an affinity for that philosophy, it certainly gives them a certain degree of advantage in practicing it. Yaizu is no exception.

Raised as a Taoist, he has steadily grown more and more dedicated in his practice of its ideas, and more and more fervent in seeking to achieve its goals, particularly since his mother's death. His own highly developed Byakugan and prodigious levels of Chakra control, as well as his remarkable physical conditioning have aiding him greatly along his path.

Another important piece of the puzzle for Yaizu were his Hawks.

In mysticism Hawks are called "Visionaries", creatures who with their great sight are able to see and travel through this world and the spiritual one, they are considered messengers and guides in discovering one's latent abilities and potential. Though this might very well be nothing more than fantasy or superstition, for Yaizu it at none the less proved somewhat truthful as his Hawks greatly aided his discover his own spiritual potential, teaching him unique and potent meditative techniques, as well as aiding him find spiritual insights. Though not the reason for him having developed him "Shinsenjutsu" their contribution was an important and vital one, and Yaizu's breakthrough did occur in their presence atop their isolated mountain, without their aid it could have taken many more years to come anywhere near the level that he has, if ever.

This is not something Yaizu can teach to another. Being a very personal thing, achieving this enlightenment depends on the individual, their goals, their efforts and their desires. All Yaizu can do is attempt to guide them along the path.

Benefits and Effects

Obviously Yaizu has not become "Immortal" or achieved the full stated goal of Taoism. Rather he has reached a level of balance and or harmony on the path to Tao that has granted him evident and tangible results. granting him perceivable abilities and benefits, meaning he has actually visibly gained and elevated himself due to his practices, demonstrating a progression in the right direction along the path to Tao and harmony with the universe. These results are diverse but simple, revolving around his own potential and awareness.

At present Yaizu has achieved 2 different levels from his efforts, levels that can described as follows.

Keihatsu
啓発
Inner Balance - the first level of enlightenment

Type: Permanent State of Being (physical, Mental and Spiritual)
User: Hyuuga Yaizu
Village: Konohagakure
Appearance:


Effects on User
Effects on Appearance: None
Effects on Personality: Greatly enhanced Calmness, serenity and composure, a person in this state appears to be at great peace with themselves and the world around them.

Abilities Granted:
As stated above, Yaizu's new found "Inner balance" and "Harmony" comes in two levels, The first level, referred to as "Keihatsu", can be considered a permanent state of self. Basically through Taoist practices of meditation, exercise and diet, he has achieved a level of physical fitness, spiritual strength and general enhanced inner balance as a whole that, unless he regresses, are permanent and grant permanent benefits and abilities, meaning that this level and its benefits aren't enhancements pushing him beyond his norms, rather this level IS now his normal one.

Physically
Due to Taoist exercise techniques and dietary practices, Yaizu has reached a level of physical conditioning and health that is significantly above average or common. This does not mean he has super strength or is invulnerable or any such thing. Rather what it means is simply that he is extremely fit and healthy, benefiting from an exceptional constitution and conditioning, granting him a superior immune system, extraordinary stamina and exceptional endurance even among the fittest of his pears meaning he can outlast them. As such he has far superior levels of physical energy, and in practice will likely outlast any opponent in terms of physical exhaustion. It also means he heals quickly, nothing instant or any such thing, but just making him above average in this regard. Also theoretically it could also mean that by taking this step forward towards the taoist goal of Immortality, he may very well have extended his life span.

Spiritually
Meditation and contemplation have allowed Yaizu to reach extraordinary levels of spiritual fortitude and mental strength. Granting him an iron will and strength of spirit, as well as making him extremely unlikely to fall victim to mental attacks, mind games, or emotional stress. Due to this Yaizu is extremely mentally and spiritually strong granting him superior levels of spiritual energy, just as he has superior physical energy. In practice it means Yaizu is unlikely to fall victim to mind games or mental attacks, it also means he is unlikely to fall victim to emotional stress or trauma.

Chakra Level
Chakra being the combination of both spiritual and physical energies, Yaizu's chakra supply is exceptional among his pears, though not extraordinarily so. In numbers he can be considered to have double the average for his rank. Though significant, this increased supply is not what is truly remarkable about this state. Rather, it is how quickly Yaizu replenishes his chakra that surprises. Producing as much physical and spiritual energy as he does, he is able to quickly replenish his chakra supply at a level far superior to the norm. So for example, One could view Yaizu's chakra being like a steadily refilling 2 liter bottle next to the near static 1 liter bottle that would be the average for his rank, or to the large pool's worth of chakra that would be a Jinchuurikis. What this means is simply that the possibility of him running out of chakra in a fight is unlikely unless he is truly careless and even then it would steadily replenish. His maximum remains the same, it does not increase,
In effect this grants him superior stamina rather than raw power.

Chakra Control
Inner balance is as much about knowing one's self as it is enhancing one's self, and in this regard Yaizu excelled from a very young age. His self awareness, of both his chakra flow and rhythm has always been exceptional, and this played a large role in his achieving this level of harmony. With it now, his level of inner awareness and control are even stronger that they previously were, bringing him to a new level, granting him complete awareness of his chakra flow down to the slightest shift, and absolute control over said flow with ease, opening the door to all new levels of possibilities Yaizu is only beginning to explore.

Awareness
Yaizu has always been sensitive to his environment, in large part due to his Byakugan, but also due to his own "sensing" abilities. With his new found level of inner balance, said senses have achieved a new level. Greater harmony with the world and nature also means a greater level of awareness of said world and nature. Tao is the guiding force behind all things, and those that are in harmony with it come to gain an understanding of how the universe should be flowing and how and what it truly is. As such he has gained a new found awareness of his surroundings, granting him almost a sort of 6th sense. This works primarily in three ways, the first being Yaizu's own sensory abilities towards chakra and the like, making him far more sensitive to it than he previously was, allowing him a far greater level of sensitivity towards it. Strong disturbances will also be sensed by him in his environment such as the presence or release of a large energy or chakra even if hidden or camouflaged, though he might not be able to pinpoint its location. The second is the sense of "How things should be" as well as an awareness of it when they are not. What this means is that in the presence of a deception, whether an obscured opponent or trap for example, or a lie or any such thing. He will sense that something is "Off" or "Wrong", though not necessarily what that something is. This could mean in a fight that is about to step into a concealed trap he might get a sense of danger or a sense that he is not alone if within the presence of a hidden person, whether by jutsu or simple concealment. It would not grant any more detail than that. The third effect if this heightened sensitivity is the ability to sense spiritual energies or ambient energies (natural or otherwise) in the environment around him.. This in no way means he can see the souls of the dead or such, but rather that he sense spiritual auras and strong emotions (whether present or associated to locations of objects). This sense also is vague and subtle, but for example in the location of an ancient battle where hundreds met their deaths she could get a sense of the emotional stress and traumas such a dramatic incident would have caused.

Downsides of Use:
Though "Keihatsu" is described as a "permanent state" their does exist a way of losing the bonuses provided by this new level of inner balance, at least in the short term. Basically, Yaizu's Inner balance and inner harmony is a product of his physical and spiritual state and enlightenment. All the benefits he gains from this heightened state of existence is dependent on him maintaining it. If he does not or cannot, then the enhancements and bonuses he gains from this will be lost until he can regain said level. What this means is that, grave injuries or excessive wear (exhaustion, poisoning, loss of limbs, potentially mortal wounds, damaged chakra network or gravely injured inner organs, etc) will result in his physical state being lessened and thus his physical energy being reduced, and thus his chakra levels and his rate of replenishment. The same is true of severe emotional, mental or spiritual trauma, loss of consciousness, and even severe pain, these causing him a weakened mental and spiritual state and thus weakening his spiritual energy, similarly affecting his Chakra and speed of replenishment. For all the advantages this level of inner balance might grant him in battle, an arduous and difficult fight is just as dangerous to her as it ever was.



Shinsen Mōdo
神仙モード
Daoist - The Second Level of Enlightenment

Type: Temporary elevated State of Being (physical, Mental and Spiritual)
User: Hyuuga Yaizu
Village: Konohagakure
Appearance: N/A

Effects on User
Effects on Appearance: Upon achieving "Shinsen Mōdo", Yaizu will gain a white outlining glow. This is subtle and could be missed or assumed to simply be a reflection of light, but it does mark him as changed to those with a keen eye. His chakra signature will of course have sky rocketed in intensity thus also giving sign of his enhanced state to those sensitive to such things.
Effects on Personality: Absolute Calmness, serenity and composure, a person in this state appears to be supremely at peace with themselves and at near perfect harmony with the world around them.

Abilities Granted:
This level represents a level of inner balance and harmony that in his quest to achieve harmony with Tao Yaizu is as yet not able to sustain permanently, but rather is a state he can achieve for a finite period with great effort and concentration. It requires him to meditate himself into this state, a process that takes time and effort on his part, and that he can only maintain for as long as he can maintain the state of mind said meditation puts him in. Without said meditation this level is still beyond him.

This Level is called "Shinsen Mōdo", or "Shinsenjutsu", and very much pushes him beyond his norms and grants extremely potent if short lived benefits and abilities to his which can be broken down as follows.

Physically
At this level, Yaizu is no longer simply at the pinnacle of physical conditioning and health, rather he reaches further achieving extreme levels, granting his greatly enhanced strength, endurance and speed. It also greatly boosts his regenerative abilities allowing him enhanced and accelerated healing. (This could be considered to grant physical enhancements on a level similar to natural energy such as practiced by Naruto).

Spiritually
Just as his body is greatly fortified in "Shinsen Mōdo" so is his soul, granting inhuman strength of will and a level of spiritual and mental strength allowing him to resist mind or soul subverting techniques such as the Yamanaka's possession techniques or mental probing arts, allowing him to block those that would attempt to invade or intrude upon his mind or soul.

Chakra Level
Whereas the first level's benefit was focused more on enhancing his Chakra regenerative capabilities,(and here too that particular benefit is greatly enhanced) ""Shinsen Mōdo"" instead boosts his total chakra supply, increasing his maximum chakra levels dramatically. Such drastic increases (on par with Canon Senjutsu) has the obvious benefit of granting him a huge pool to tap into, it also allows him to boost his jutsus to new levels, such as for example allowing him to perform a Kaiten ten times larger than he normally could.

Chakra Control
Yaizu's Chakra Control is similarly greatly enhanced in this mode, becoming unassailable or alterable unless he allows it. What this means is that his chakra can not be altered by Genjutsu, or forced out of him against his will. It is still vulnerable to anything chakra normally is, (other chakra such as through Jyuuken for example) but rather it is how and where his chakra flows that cannot be violated.

Awareness
In "Shinsen Mōdo" each of Yaizu's senses are tripled in acuteness and precision, from hearing to smell. Even his Byakugan benefits from this as any of his other senses do, its range and accuracy tripled. The same being true of his ability to sense chakra or spiritual energies as described in tier one. Also at this level Yaizu's sense and awareness of the world around him, and his harmony with Tao, the guiding force behind the universe and truth behind it's state, provides him with an innate understanding of how things "should be" or are "meant to be" according to Tao. It also allows him to notice when things are not as they should be. This has the effect of allowing him to see or perceive what is hidden from him or attempting to deceive her. What this means is that she would be able to see through a deception or attempt to conceal what is there, it does not however mean that he would be able to see things she would naturally not be, meaning he would not suddenly be able to see spirits or magnetic fields or whatever else her eyes are not able to, which would also means that he still needs the Byakugan to see chakra, tenketsus or expand his range. Rather what it does mean is that he can see through concealments or camouflaging jutsus as his awareness of the world override such efforts. Meaning that, an invisibility jutsu would not work, and with his Byakugan attempts to conceal chakra or prevent his penetrating vision would also fail, again because his harmony with the universe and awareness of it supersedes such attempts. The same applies to sound or smell or any other sense. Also, his sensing abilities such as the ability to sense chakras, spiritual or natural energies, as described earlier, will also be greatly boosted, increasing his acuity and range greatly.


Effect on Jyuuken - Sennin Jyuuken
Needless to say, such a state as "Shinsen Mōdo" has a potent effect on Jyuuken, both greatly heightening the strength of the chakra he emits, and enlarging his scope. Where as it is said that even if a Jyuuken strikes misses it can still cause harm if it comes anywhere close due to the emitted chakra, this becomes even more true now as the amount of chakra and intensity of it becomes so great that it covers a large zone, thus even a clear miss can still effectively deliver his strike. the intensity of the damage cause is also far greater, where as normally a jyuuken strike will disrupt chakra flow in an opponent in "Shinsen Mōdo" the Chakra emitted is so strong that a similar blow can prove enough to send cause great shock to an individual's entire network.

"Senpō" - Sage Arts
When in Shinsen Mode, a number of techniques are made possible which would otherwise not be, these range from simply boosting his own techniques as described above to whole new levels, or can refer to wholly specialized technique. As mentioned earlier,

Downsides of Use:
"Shinsen Mōdo", though granting great power, does so very differently than how other techniques that push one beyond one's normal means go at it. This is due to how it provides these powers, where as something like the 8 gates grants power by breaking through and ignoring the body's own safety systems, thus increasing ones chakra to beyond what one's body can handle, or where Bijuu chakra simply overwhelms and harms it's hosts body when called upon, this techniques grants power by elevating the mind and body to the point where they not only can take it, but are actually naturally creating such power on their own, as such, using "Shinsen Mōdo" does not cause the physical harm other similar techniques cause.

Instead, the "downside", or limit, aside from the difficulties achieving "Shinsen Mōdo" in the first place, is that upon returning to normal, a person, though perfectly fine and healthy physically, will suffer a physical and mental "low" when returning to normal, leaving him kind of drained mentally for a minimum of 1 post before finally adjusting to the change. This is due to the sudden loss of "enlightenment" or reduced state of mind causing the person an emotional and physical sense of loss for a moment. This could be considered similar to the low after a "sugar rush" in a sense.

smartfiredragon
Jounin






Subject: Re: Hyuuga Yaizu's jutsus (revamped) Sun Sep 26, 2010 11:34 am

---

Apperance of seal:

https://2img.net/h/i262.photobucket.com/albums/ii113/_montblanc-chicosci_/shadowspotsp1.jpg

The circle on the left and right are chakra storage seals the one in the middle is a restoration seal

Name: Location:

on the upper half of his back

Rank:

S

Preparations:

The 2 chakra storage seals: Requiring a large tattoo be marked on yaizu, This tattoo seals up portions of yaizu's Chakra. Each day for a period of 10 full days this seal will take up to 5% of yaizu's Chakra and seals it into said Tattoo until it is full. Once full this process will stop, only to begin again once the collected Chakra is released. Each seal can store up to 50% of yaizu's full Chakra supply, thus giving him a potential of 100% of his full Chakra supply. To release the seal, yaizu will need to perform a set of 5 hand seals to, reintegrating the stored Chakra into himself.

The restoration seal: takes longer to prepare a fully of 25 days to restore after being used. allthough this one only requires 2 handeals to be released.

[u]Positive Effects on Target:

Storage seals: As stated above, yaizu can at any time, by performing a set of 5 seals, release the sealed Chakra to reabsorb it into his system, giving him an emergency Chakra reserve for dire situations, thus increasing his full potential Chakra reserve to 100%.

Restoration seal: The seal in the middle is a complete restoration seal it heal his body no matter how severe the damage is (cannot restore lost limbs however) and restores it completly also restores 30% of his chakra. this allows him to escape near death situations

Negative Effects on User:

The storage seals: The seals requires 10 days to replenish itself once used, during which he will feel somewhat less energetic than usual, and cannot be released again until refilled completely

The restoration seal: Takes 25 days to restore it self during which he will feel somewhat less energetic than usual, and cannot be released again until refilled completely

Seal Info:

Sponsored content






Subject: Re: Hyuuga Yaizu's jutsus (revamped)

---

| | |
| --- | --- |
| Hyuuga Yaizu's jutsus (revamped) | |